'ONE TEAM' CONCEPT WORKS WELL AT LOGIC PD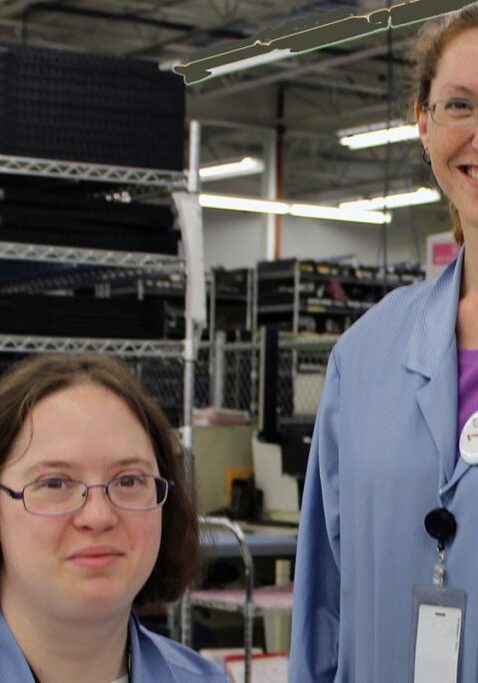 Posted on Aug 29, 2016
The bright, expansive high-tech facility hums with a steady production flow. Rise's team of six workers are working on several different tasks in various locations throughout the plant which are all key to Logic's overall operation.
Logic PD in Eden Prairie provides its customers with "product lifecycle management." They work in a wide range of industries, including aerospace / defense, commercial / industrial, and medical / life science markets.
"We have one team working here – it's not Rise and Logic employees separately," said Manufacturing Supervisor John Bolduc.
"We rely heavily on people from Rise to help maintain our work flow by reel winding, labeling circuitry boards with new serial numbers, and circuitry board assembly; they also work in inventory control. Their accuracy is crucial to the work we do and helps us tremendously in saving labor costs – it's huge for us."
Lisa Bauman supervises the team from Rise which works from 6:45 a.m. to 1:15 p.m., Monday through Friday. "John and I work together to determine what's going to work best for everyone by assessing people's skill sets and then finding the right job and the right fit for them," Lisa noted. "We want everyone to be successful."
A few of the people from Rise working at Logic had been at a similar company several years ago before it relocated out of town.
"I've got a really great team," said Lisa. "They were already familiar with this high-tech industry, had good work skills, and felt comfortable in this work environment. It made it easy for them to transition to Logic."
People work both together as a team as well as independently, depending on the work tasks.
In addition to the people shown in photos here, John Passon is cross-trained on a number of different jobs throughout Logic and is always willing and able to fill in for others or assist wherever he is needed.
"It is great to know Logic values our input and the work we do for them every day," said Senior Marketing Representative Nancy Hoff.  "We also appreciate John and his team for helping make 'work' fun!"
"We have a great partnership with Rise," John added. "Everyone is reliable, dependable, and hard-working – we couldn't ask for more than that!"