IT'S GREAT TO BE AT THE YMCA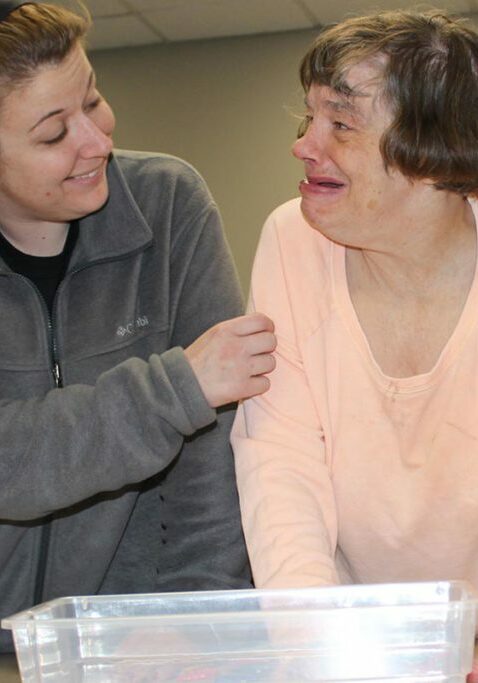 Posted on Dec 10, 2015
The halls of the Mounds View YMCA are bustling with activity with two busloads of kids on a school retreat as well as a group of older adults arriving for the Seniors Sneakers program. And just down the hall is where Rise's third Adult Day Program (ADP) is located, the second program hosted in a YMCA.
Rise launched the ADP in mid-August to serve people who have intellectual disabilities and higher medical needs who were not interested in working, yet still wanted day services. The program currently has five people enrolled with plans to grow to fifteen, with a staff-to-participant ratio of one-to-three; at full program capacity, there will be five staff.
Over the past three years, Rise's ADP at the Emma B. Howe Northtown Family YMCA in Coon Rapids has grown tremendously. Anoka County Community Health & Social Services managers asked Rise to expand the program to another location which would then free up openings for people on the waiting list in the Community Integration Program (CIP) in Anoka.
"The YMCA has such great programming directed at seniors so this partnership is a perfect fit for us," said Program Coordinator Becky Cordes. "We look forward to continuing to work together with YMCA staff and expanding our participation in their many activities and classes."
People in the new program seem to really enjoy their new activities and are benefitting from the additional learning and personal growth opportunities. Rise plans to add music and art therapies as well as personal trainers in 2016.
"We appreciate how YMCA Community Program Director Nate Danielson and his professional YMCA staff have supported Rise in getting the program off the ground," said Becky. "Everyone enjoys and benefits from their involvement in a wide range of healthy activities, and the Y members have been most welcoming. We really appreciate this great collaborative partnership."
Patty Welsch, whose parents filed the historic lawsuit (Welsch v Noot, 1967-1980) which closed Minnesota's state institutions, received support at CIP-Anoka for many years, but over the past few years, hasn't wanted to keep working.Her family said that transitioning to the Adult Day Program was a really good opportunity for Patty. Her residential staff and former CIP-Anoka staff have commented on how Patty seems calmer and more independent since starting at the Mounds View YMCA. Patty enjoys going for walks, going out for coffee, and spending one-on-one time with ADP team members, as well as auditory and tactile sensory activities.