Mike brings his solid work ethic to the job every day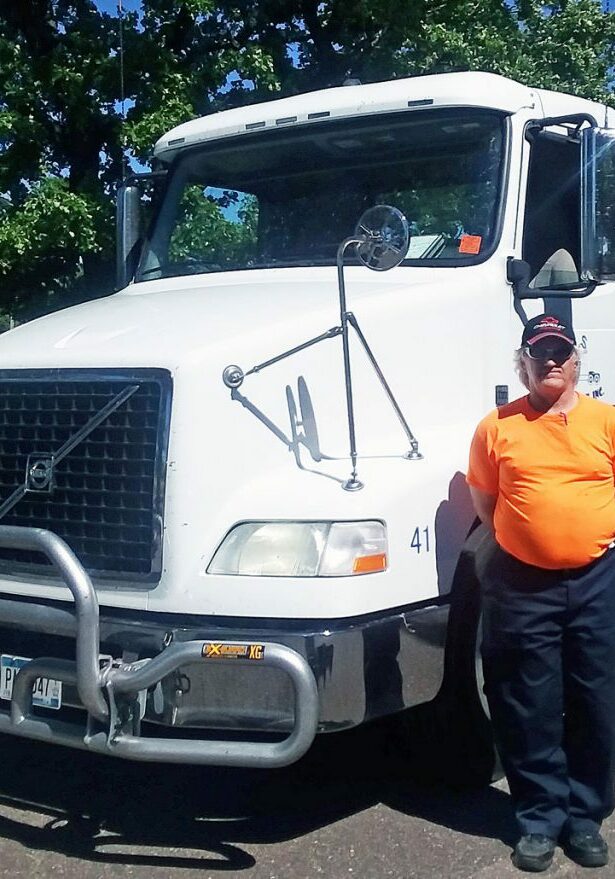 Working between 50 and 65 hours a week may sound grueling to most people. But driving a commercial truck in the Twin Cities metro area is a great job that Mike Jones is grateful to have and really enjoys.
Mike has faced significant personal obstacles and tragedies throughout his life. For the last ten years, he has had a hard time finding a permanent job because of multiple criminal convictions from his past. In addition, Mike had been absent from the workforce for five years, caring for his wife of 30 years, Holly, who required 24-hour care and attention. Sadly, following her long, hard-fought battle, Holly died in April of 2017.
"I love commercial driving and I do it well," said Mike proudly. "But it is hard to find a good job in this field, especially with the larger trucking companies. I was almost ready to give up."
Mike's therapist at the Family Life Mental Health Center in Coon Rapids, Richard Burns, referred him to Rise Program Supervisor Kristina Rockey to put together an Individual Placement and Support (IPS) plan. With Kristina's support and encouragement, Mike was confident that he could explain his inconsistent work history and criminal background to potential employers.
James Fredrickson, owner of JD's Transport Inc. in Ham Lake, took an interest in Mike and decided to give him the chance he felt he deserved. James hired Mike in February 2017 as a commercial driver in the Twin Cities metro area. James was willing to be flexible with his work schedule so Mike could tend to Holly's medical needs.
"Mike is a hard worker who gives it his all, keeps a positive attitude, and communicates well which allows for him to solve issues quickly," James said. "He brings a set of values and integrity to his job and it is obvious that he enjoys going to work every day."
Mike appreciates the personal and professional support he receives as well as the friendship he has forged with James. After years of struggles and uncertainties, unemployment and grief, Mike said it was a proud day when he was able to treat his boss to lunch. "That felt really nice," Mike said. "James treats me like a member of the family; I couldn't ask for a better person to work for. He has a good bunch of people working for him; it feels like a family. I plan to be a 'lifer' here until I retire."
Kristina provided follow-up support services for several months, but closed Mike's file with Rise in July 2017. "He knows he can always call if he needs anything," said Kristina. "But Mike has taken the lead in his own life and is very successful."
Despite working long hours, Mike still has time and energy for his favorite hobbies, riding motorcycles and snowmobiles. Mike and his daughter Michaela have always been "quite a team" and enjoy spending time together. An added bonus to the family fun is Michaela's stepson, Hudson, who is nine years old. He and Mike enjoy many outdoor activities together.
Mike also volunteers at Trinity Lutheran Church's 'mini-market.' "It's nice to be able to give back," he said.