Austin's years of running with his dad pay off when he qualifies for USA team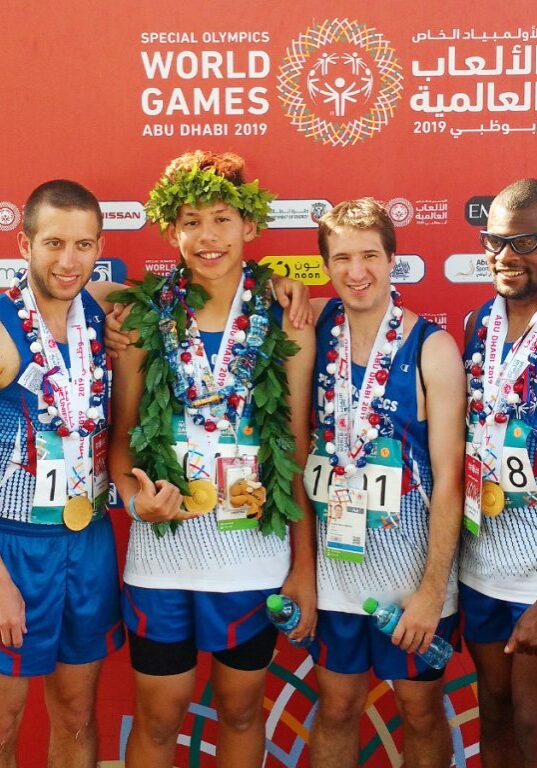 Austin Hackley has been running with his dad Bob since he was a young boy; they even completed the Medtronic Twin Cities Marathon together. But little could he have imagined that someday he would represent the United States at the Special Olympics World Games in Abu Dhabi in the United Arab Emirates on the track and field team!
Austin, who is 27, has competed in Special Olympics with his home team, the White Bear Lake Bears, for five years. A well-rounded athlete with three older brothers and athletic parents, Austin participates in track and field, basketball, downhill skiing, and soccer. He says he has made many great friends through Special Olympics and they all support each other.
After qualifying here in Minnesota, Austin went to Delaware to try out for the Special Olympics national track and field team. He needed to finish in first or second place in each of the events to qualify for the U.S. team.
When he was selected for the U.S. team, his mom, dad, and grandmother packed their bags to accompany him half way around the world and cheer him on.
The World Games ran from March 5 to March 22, with delegations from 190 countries competing. Austin took seventh place in the 1500-meter run, fifth in the 850-meter run, and FIRST in a 4×4-relay, running the second leg!
It was quite an adventure for everyone. While they were there, Austin and his family had fun taking in the sites of this exciting country. His favorite place was the observation deck on the world's tallest building, the Burj Khalifa in Dubai, which is 1,250 feet tall.
"Austin has always worked hard and has an 'I can do it' attitude," said his dad. "He is fearless and gives a 110 percent effort in everything he does. It is amazing to see how far he has gone. Austin was able to overcome some serious medical problems and has become a very competitive athlete. His ambition and drive are what have allowed Austin to overcome challenges and become a successful young man."
When he returned home, Austin brought in his medals to show his co-workers at the Kwik Trip in Stillwater where he works five days a week as a retail helper. "I was proud to be an American and represent my country," he said. "They were all really excited for me."
Among his many job duties at this busy convenience store/gas station/car wash are keeping the coolers stocked, facing product shelves, unloading delivery trucks, and emptying trash. He has worked there since 2014.
"I have recently given Austin the nickname, 'Awesome Austin' because that's exactly what it's like when he is here – awesome," said Manager Jessica Stelhem. "The entire Kwik Trip team was overjoyed for him and definitely missed him the three weeks he was gone. He makes all of our lives easier everyday and we are so happy Awesome Austin is part of our Kwik Trip family."
Austin lives in an apartment with a roommate in Woodbury and take the Transit Link to work. He enjoys exercising, movies, and spending time with his friends and family.
This article appears in the June 2019 issue of the Rise Reporter.