Workers at Activar find that team work is especially critical in multi-step operation building fire extinguisher cabinets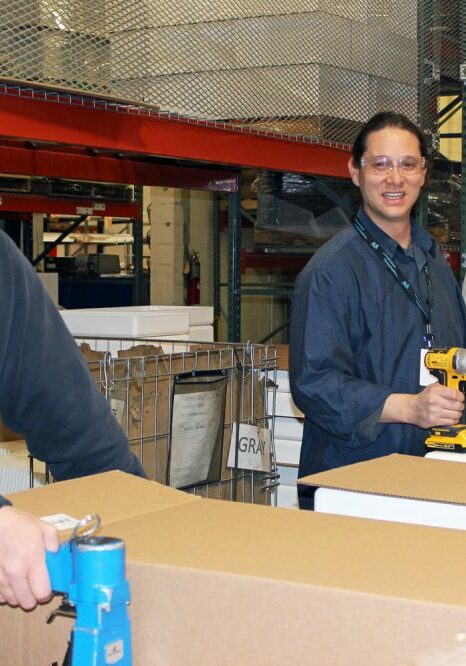 When Human Resources Generalist Grace Boese was looking to add more staff at Activar Construction Products Group in Bloomington, she knew just who to call: Rise's Senior Sales Representative Nancy Hoff.
The idea was sparked by another manager who suggested supplementing the firm's workforce with people from Rise. Grace had worked in HR at another Twin Cities manufacturing company a few years ago and was confident that Activar and Rise could develop a similar mutually beneficial business partnership.
"My previous experience working with Rise was a positive one," said Grace. "The individuals I worked with fit right in with our business needs and were always so positive and willing to help wherever we needed them."
Since May 2018, workers from Rise have enjoyed the fast-pace work environment at Activar. Like a well-oiled machine, six people work together to produce metal wall cabinets found in businesses around the world.
Rise's Direct Support Professional Francis Burgess supervises the team, which includes Daniel Fisher, Lisa Geng, Jason Christensen, Brian Henley, Stuart Pierce, and Paul Leiter. Most have honed their good work skills over the years at various community work sites and have now come together to form a great crew.
"Team work is especially important in this job," said Francis. "People have their favorite tasks to do in the multi-step operation, but we also like to switch it up so that everyone is good at all the different and important parts of the process."
Once the cabinet pieces have been cut, welded together, and painted by Activar employees, the team from Rise goes to work with the finishing steps. They bring in parts from the warehouse, assemble and screw them together, quality check, package, and palletize the completed cabinets to be sent back to Activar's shipping department.
As the team became more and more proficient in their tasks, Activar production managers were open to expanding short-run operations and other special projects they worked on. For instance, Brian is now installing insulation in cabinets and Lisa has been assigned to work on other sub-assemblies or in work centers alongside Activar employees.
"I love the group's enthusiasm to do well, along with being greeted with a wave and huge smile from each person every day," said Production Manager Jeff Rask. "So, from helping fulfill our capacity needs to lighting up everyone's mood with their personalities, I feel this has been a win-win situation."
"Everyone here at Activar is so kind and considerate," Francis added. "They show their appreciation for the work we do and support our team. People have helped train us in using the proper techniques, keeping safety in mind. If we need to adapt a procedure, they are happy to help with that, too. We want to ensure that we always meet Activar's safety and quality expectations."
Activar is an American manufacturing and distribution company engaging in construction, plastic, technical, and industrial products and services.
This article appears in the March 2019 issue of the Rise Reporter.