With support from Rise and HCMHC, Cliff finds a great job at Aspen Waste Systems that suits his personality perfectly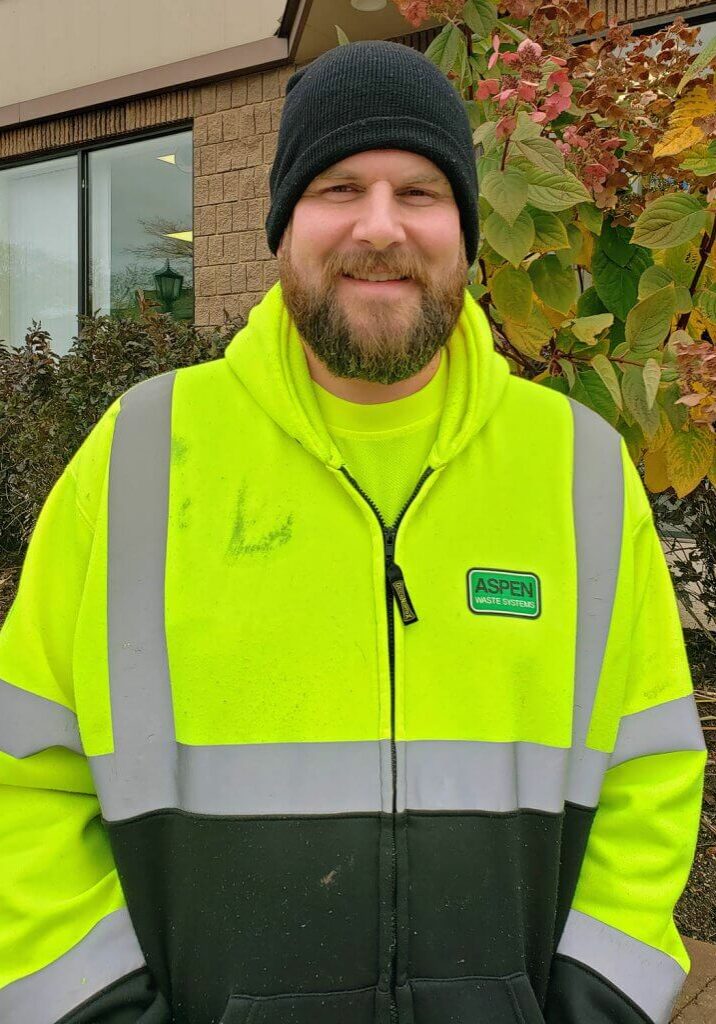 Starting his downtown Minneapolis route at 5 a.m., Cliff Meacham winds around through the Mill City ruins area and then on to the University of Minnesota campus, emptying mostly dumpsters. "It's fun to see large pieces of furniture get crushed in the garbage truck!" he said with a laugh.
Ironically, the Number 1 job on his high school career assessment was a garbage truck driver! "It fits my personality perfectly. There is no typical day – each day is its own adventure!"
Having a good job that he really enjoys has made a "night and day difference" in his life Cliff added. "It's pretty much amazing. I have noticed an uptick in positive feelings – it's all good."
Cliff was hired by Aspen Waste Systems in June of this year. Prior to starting there, he was working for a local brewery as a buyer. But when that job became too stressful for him,
Cliff's therapist at the Hennepin County Mental Health Center (HCMHC) connected him with Rise's Individual Placement and Support (IPS) team.
Employment Consultant Dave Gonzalez assisted Cliff with career planning and connected him to Aspen for a job interview. He had never worked a CDL (commercial driver's license) job and said he had to study hard to pass the written and driving tests.
After getting his CDL, Cliff trained for a month with another driver and subsequently was promoted into a full-time garbage truck driver position.
"Within reason, I'm my own boss," said Cliff. "Now that I'm driving alone, I can drive the route the way I want to and have a lot of flexibility. It's so different than previous office jobs I've had as I'm not cooped up. Every day is something new and different, and I never get bored."
Cliff appreciates the services and support he received from Rise, which he says plays a huge role in his continued success on the job. He has some advice for others who might be in the same situation.
"I would say to not be stoic," Cliff says. "In the past when I lost a job, I would take it all on myself and not use community resources. This situation taught me that there are a lot of support resources out there. You must have an openness and willingness to accept assistance.
"Talking about your situation with others, like a psychiatrist, will lead you to resources that can help," Cliff added. "Have the mindset to pull out all the stops to get back on your feet."
Cliff also advises to never lose hope. "But you need to treat your job search as a fulltime job; spend as many hours you can a day to accomplish that goal. When I met with Dave, I was very specific with my interests and needs — that helped me get a job I really wanted."
In his free time, Cliff enjoys spending time outdoors with his five-year-old son, going to dog parks, fishing, and hiking.
This article appears in the December 2019 issue of the Rise Reporter.