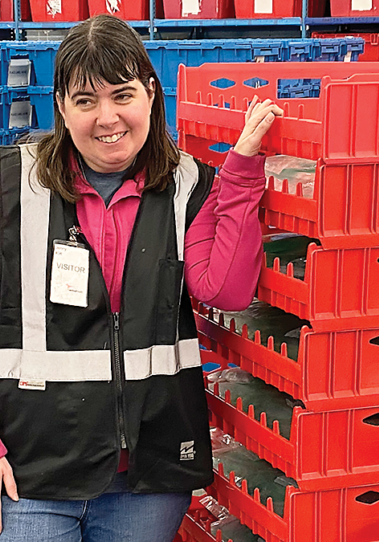 Rise team is integral in supplying critical medications to pharmacies throughout the upper Midwest.
A massive warehouse filled with health and beauty aids is located in a business park in Hudson, Wis. The humming of forklifts, including their signature backup beeping sounds can be heard as people pull items from the shelves to fill orders, placing some of them on a conveyor belt throughout the building. These items will eventually go to midwestern hospitals and clinics.
The Hudson facility is one piece in Cardinal Health's critical healthcare distribution hub, ensuring six Plains states are stocked with the supplies they need in the fight against all sorts of medical conditions. And when you enter this building buzzing with activity, the first people you see are from Rise.
"They're vital to our team. We treat them as our employees," said Operations Manager Heath Ehrnreiter. "They know our team members by name, and we know them by name. It's super awesome."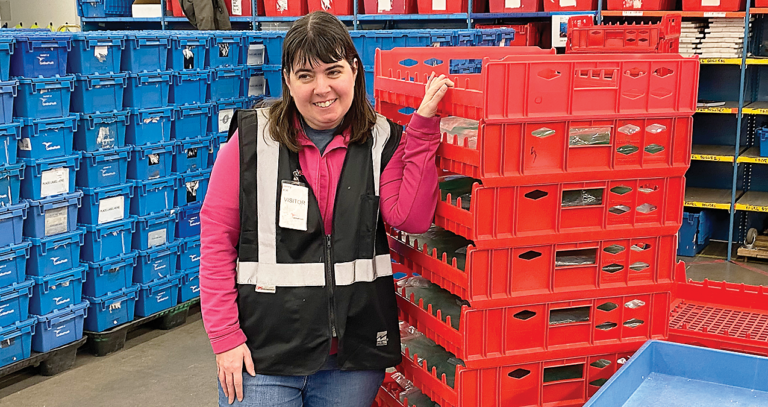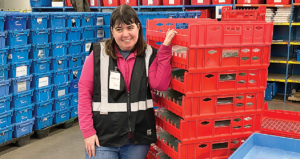 Rise supports a six-person employment team at Cardinal Health. The team reconditions returned cooling bags, placing them back inside a cooler to recharge before being used again to send refrigerated medications to the Dakotas, Iowa, Wisconsin, Minnesota and parts of Michigan. It takes more than 2,000 totes daily to keep up with demand.
It's a fast-paced job that Nathaniel Johnson enjoys. "I have Autism, and it keeps me busy. It's a really good thing," he said, explaining his work. "I grab the crates from here and bring them there. They can't be stacked more than eight high."
"[The team] are an important part of what we do here. If they weren't doing the work, we would struggle to get refrigerated products to our customers because we wouldn't have these types of things ready," Ehrnreiter said. He found Rise (then named ESR) while looking for a solution to relieve a strained warehouse team that was trying to clear totes while also doing their other job duties. That's when Rise came to mind. "I thought to myself, 'They can do the work. Let's do it!' We made contacts in the following week, and about three weeks later, the Rise team was in," he said.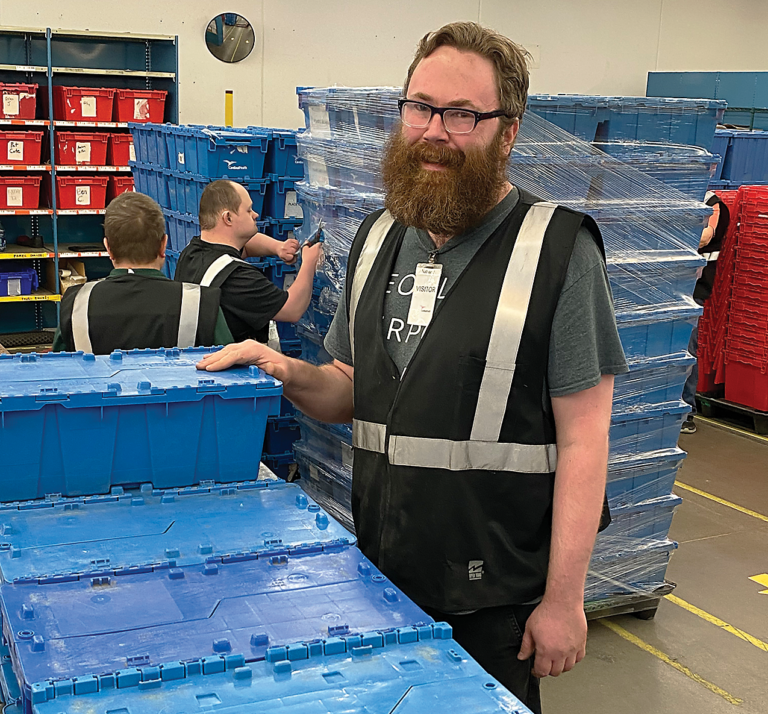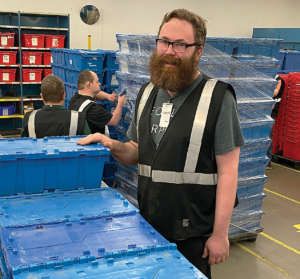 Six years later, Rise is right at home as a valued part of the Cardinal Health team. They know all the staff, participate in work activities, and are depended upon for their diligent work. And the warehouse workers are more efficient too.
"It's really rewarding having the team here. They're always so upbeat. They know everyone by name!" said Operations Supervisor Nicola Lencz. "It's grueling work. When they're not here, we need to pull at least five people from operations."
Rise is onsite Monday through Friday, but individual shifts vary between two and five days per week. Jenny Wood is among those who come every day. She enjoys being part of a team with her friends and likes the income which allows her to travel to exciting new places.
"I love working here. It's fun!" she said. And she gave a big thumbs up when asked if she plans to continue working at Cardinal Health.
The financial freedom that comes with work is also important to Brandon Foley, who splits his time between Cardinal Health and another worksite in New Richmond, Wis.
"I like seeing my friends every day. And I like seeing my favorite staff. I like them," Foley said. "And it pays good money. I hope to continue coming here."
He just bought a new Xbox with his hard-earned cash. And because he's passionate about music, he is also excited about plans to buy tickets to concerts of some of his favorite bands throughout the spring and summer.
Work opportunities are changing for Rise at Cardinal Health. With a warehouse restructure on the horizon, the crew will work in a much larger refrigeration room filled with even more activity. That will mean new training and additional policies, with input from our team as they work through the changes.
"It's about a partnership on how we can support our business and other business as well, and most importantly, the folks that are here," Ehrnreiter said. "The work is always there. The work will never go away."