We'd like you to meet — David Schwartz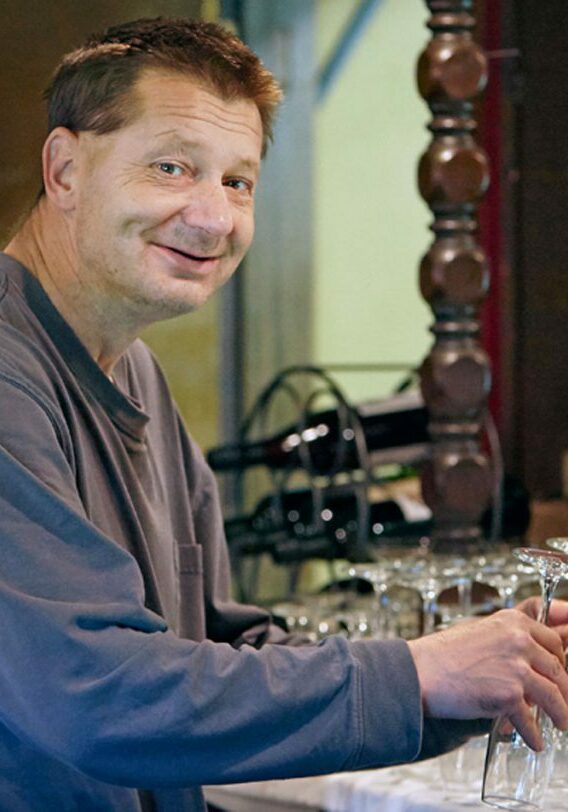 The Dalles House Restaurant and Lounge in St. Croix Falls has been an upscale, favorite dining location for generations of Wisconsinites and Minnesotans alike. It features classic American cuisine with a fun twist from the past. Those who work there are proud to carry on its long traditions of great food, nice ambiance, and impeccable service.
It's no wonder then that David Schwartz considers the Dalles House the best place he has ever worked. "The bosses promote an excellent work environment and everyone is so nice," he said.
David is a valued member of the restaurant's janitorial and maintenance team, said his supervisor Merlin Fox. David typically works Fridays, Saturdays, and Sundays, allowing Merlin to have most weekends off.
David says he enjoys the wide range of job duties. In a typical shift, he takes care of keeping the lounge, restaurant, bathrooms, and kitchen floors clean and safe, sets up for special dining events like receptions and private parties, and waters the plants and flowers in the courtyard and patio areas. And with his licensed background in HVAC (heating, ventilation, and air conditioning) work, Merlin and owner Sonja Fry also rely on David for some light maintenance and fix-it work.
"We make a list of tasks we need done and know that David will have everything done and done well," Merlin added. "It's a lot of responsibility, but he does a great job, and is always willing to do anything we ask of him."
Early on, David had worked in HVAC as well as truck driving, but since the age of 22, has struggled with his mental health symptoms. He also worked as an installer with his father's fence company, but when he retired in 2013 and sold the business, David needed assistance in finding employment. He was referred to Rise's Employment Innovations program in Lindstrom.
Together with Program Manager Maeta Burns-Penn and Rise's vocational programming funded by the region's Mental Health Initiative, he began his career planning process. David underwent a community-based vocational evaluation at the Dalles House to assess his skills and interests. Merlin and Sonja were so impressed with David, they offered him a part-time position when he completed his evaluation.
Over the past four years that he has worked at the Dalles House, David's co-workers have come to appreciate his flexibility, reliability, and gentle sense of humor. A quiet man by nature, David says that "it's really good for me to have fun people to work with. They are all excellent."
Maeta continues to offer follow-up support services as needed to help ensure his success on the job. She appreciates that Sonja serves on their region's IPS Steering Committee, offering insight and support for programming and individuals Rise supports.
David is the proud owner of a new-to-him truck. As Maeta noted, he "deserves a new ride!" He lives with his parents in nearby Chisago Lakes to be closer to work. During the week, he lives with his sister in Hugo, where he enjoys helping her maintain the townhome and going for walks.