Volunteer Kay Rosenthal assists people explore their creative sides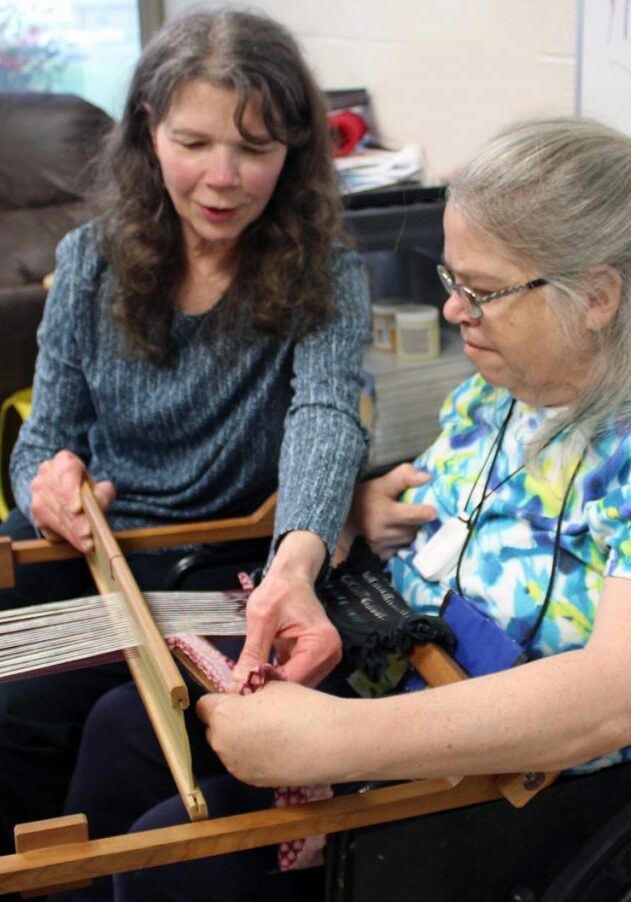 It all started with a "guest" presentation that she made with her friend and veteran Rise volunteer, Mary Jellison, to a group served in Rise's Adult Day Program (ADP) back in April 2017. Kay Rosenthal demonstrated spinning natural fibers on her spinning wheel and they were an enthusiastic audience. Just like that — she was hooked!
More than a year later, Kay still comes down from her home in Grand Marais on the shores of Lake Superior in northern Minnesota to spend time with the men and women in Rise's ADP at the Fridley Community Center. Kay coincides her volunteering with regular trips to see her mom and family in Forest Lake.
Having worked in occupational therapy and as an activity director at skilled care center facilities, plus her many hobbies, Kay continually offers many interesting, fun, and challenging opportunities for people to explore their creative sides.
"You can modify just about any activity to adjust for a person's fine or gross motor skills," said Kay, who understands the limitations some people may have from brain injuries, health conditions, or strokes.
"Together we have painted rocks from Lake Superior to use at Rise gardens or as paperweights and decorations," Kay noted. "We have completed weaving projects with various fibers, learned about calligraphy to dabble with pen quills and ink, created handmade cards and Valentines, and even practiced the Japanese Kumihimo art of braiding cords."
"Kay is really a creative person and brings new ideas to our program each time she visits," said Lisa Heffner, ADP program supervisor. "The people we serve are always excited to see her and ask when she is going to return.  Kay listens to what people have to say and incorporates their ideas and interests into the next craft or activity she brings."
In addition to assisting people learn new skills and express themselves creatively, Kay enjoys the one-on-one time she gets to spend with them such as trips to the YMCA.
"I like getting to know each person better to establish a level of trust. It's a great group of people and staff of all ages who are really sharp, interesting – and make it fun."
Kay said she knows that many retirees like her may miss their careers and still have a lot to give. She would like to encourage others to venture into volunteering.
"It's important that people are incorporated into the community and help each other. Volunteers do that every time they visit at Rise ADP. Everyone here at Rise is so welcoming – it just makes you want to come back again and again."