Tsega brings dedication to her talented production team at Integer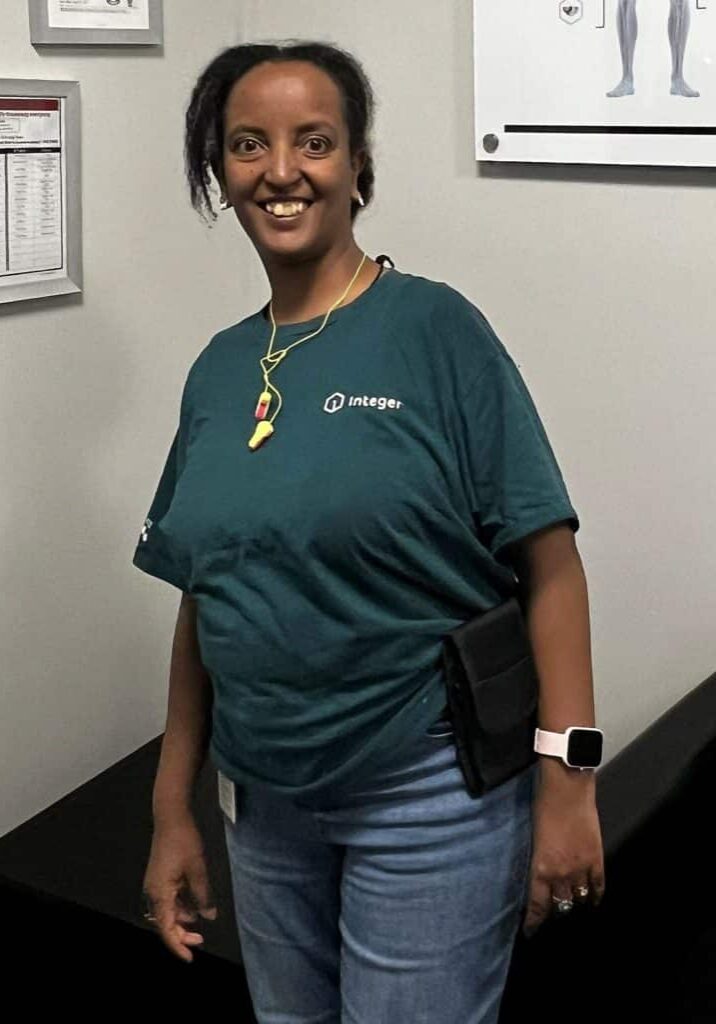 Rise worked with more than 2,600 people with disabilities and other challenges last year as they achieved their goals. Many people work together on Rise teams at local businesses. People learn valuable skills and gain friendships at these jobs, all while earning a paycheck. One of these talented workers is Tsega Afrassa. She is a production associate at Integer, a medical device manufacturer in Minneapolis.
Finding a supportive job can be difficult for people with disabilities. Lisa Bauman, Tsega's direct support professional (DSP) says, "without a place to go to work people feel isolated." She continues, "socialization and learning to be independent is so important. Not everyone has that at home."
Tsega, 37, has worked at Integer nearly two years. Tsega works four days a week alongside a group of other Rise workers. This team supports Integer's production of medical devices, including pacemakers. They often complete over 5,000 production tasks together every day, including assembling the shell of products, peeling adhesives, and collecting recycling.
English is Tsega's second language, so she needs support when navigating common workplace situations. Tsega connects with her DSP Lisa regularly to discuss scheduling and work assignments, advocate for Tsega's needs on the job, and make connections with other workers. Lisa joins Rise workers on-site at Integer daily to be an advocate in the workplace. "I make sure everyone has what they need to do their job successfully," shares Lisa. "Some people I work with need a lot of supports, but some people don't. I'm here to make sure each day goes smoothly and be available when people need me."
Tsega has learned that group employment is ideal for her, at least for now. "My favorite part of the job is talking to people and making friends here," Tsega explains. She has learned many skills and proudly declares, "I am organized, friendly, and fast." Lisa jumps in to boast about Tsega's skills. "You are both independent and a wonderful team player. You're always willing to help others."
Our business partners are an important part of people's employment journey. "Integer allows for independence for the people working here. They are also very inclusive to workers like Tsega. For example, they host a special celebration lunch during Ramadan that people really enjoy," says Lisa.
Lawrence Loftus, a supervisor at Integer, explains how Rise workers boost the workforce. "The Rise team brings a very upbeat attitude to the work floor and do very detailed work." Having these dedicated and talented team members proves essential in times of change. "We are constantly growing, and Rise has always been a dependable source to ask for help," explains Lawrence.
The gratitude extends to Tsega as an individual. "Tsega can manage tasks at a high level and is detailed in the work she does," said Lawrence. "It's always a pleasure to see an associate like Tsega with a smile after a day of hard work!"
In her free time, Tsega enjoys cooking and baking as well as making time for her wellness. "I'm good at baking a cake with chocolate and vanilla swirl," shares Tsega. "I also like to go on walks with friends and I use an exercise bike at home." As she considers her future, Tsega is open to a long tenure at Integer. "I don't know what's next, but I like it here!"