Thanksgiving gifts for a delicious dinner!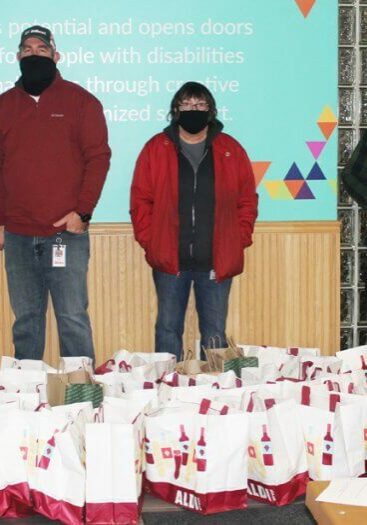 For the ninth year, employees at Cummins Power Generation raised funds through special events and donations to purchase and grocery shop for all the makings of a complete Thanksgiving dinner, plus a $25 grocery store gift card. Three years ago, Ruan and Bobcat employees joined them in this huge project. This year, 150 families served by Rise received these special holiday dinner gifts. Rise serves many people who are proud to work at these great companies. Our partnerships with Ruan, Bobcat, and Cummins help make our communities stronger. We so appreciate their kind generosity and support.
Representing many great employees at Ruan, Bobcat, and Cummins, these people brought over dinner groceries for 150 families: Sean Kvidera, Todd Peterson, Gayle Gruber, Monica Carroll, Karleigh Bebeau, and Shruthi Popplee.
This article appears in the December 2020 issue of the Rise Reporter.