Team Member Spotlight: Shannon Widstrom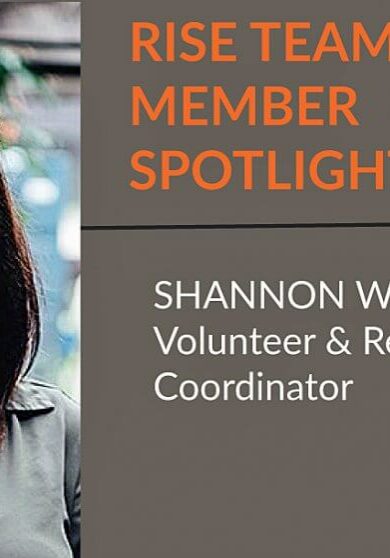 When Shannon Widstrom thinks of values that have shaped her career, authenticity is the first to come to mind. She strives to bring her true self to all aspects of her work and life and wants others to feel comfortable doing the same. Building relationships and a career around this character attribute not only aligns with Rise's mission, but also has proven successful for the volunteer and recruitment coordinator.
"I'm grateful that I get to come to work and do something that I love – work with people," says Shannon.
In her current position, Shannon spends half of her time leading the volunteer and intern programs and half of her time doing recruitment activities for the human resources department. She attends job fairs and volunteer conferences, coordinates mock interviews for volunteers, posts job openings, manages specialty volunteer recruitment events, and more. Shannon supports around 175 volunteers annually, who collectively log an average of 3,000 hours supporting Rise.
Shannon began her career in human services working as a personal care assistant for an individual while attending college in River Falls, Wisconsin. After working for another provider for five years in various direct support roles, Shannon transitioned to Rise, serving as a lead vocational evaluator for three-and-a-half years before moving into her volunteer and recruitment coordinator position in June 2019.
"Rise's mission is at the heart of everything they do," says Shannon. "I was very fortunate to have a supportive supervisor who invested in me. He helped me identify my skill set and strengths, asked me what I wanted to do with my skills and strengths, introduced me to people within the organization, and ultimately made me aware of the volunteer and recruitment coordinator position. Now I tell people about Rise and the amazing things that they do!"
With a bachelor's degree in English literature, Shannon is an avid reader outside of work. She also loves camping and drawing.
Thank you, Shannon, for embracing authenticity and your willingness to grow with Rise!