Team Member Spotlight: Sarah Kohl-Leaf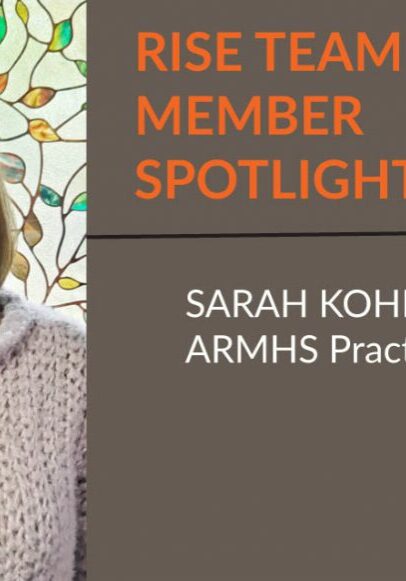 After working in the disability services field for a collective 18 years, Sarah Kohl-Leaf is still as passionate as ever to support people as they accomplish their life goals.
Sarah began her career working part-time in a residential home and later worked for ESR, Inc. (now Rise) as a direct support professional. She has been with Rise since 2013, first working as an employment consultant at Rise Coon Rapids and then in the IPS program (Individual Placement and Support) in Spring Lake Park.
She transitioned into her current role as an ARMHS provider (Adult Rehabilitative Mental Health Services) in 2018, shortly after completing her Bachelor of Science degree in psychology. In this position, Sarah assists 15 to 20 people in five counties to develop individualized employment placement and support consistent with the individual's interests, career goals, and plans.
"Every role I've had in the disability services field has involved different challenges and different rewards," says Sarah. "Human services has the mobility to support people in many ways, and there's just something special about watching the people served develop their pride and confidence. It's very fulfilling to assist people reach their goals."
Sarah's job duties involve working on a team of four ARMHS providers, in collaboration with a mental health team, to give the person served the strongest foundation possible. She meets with each person on her case load once a week, supporting them with person-centered tools that help them overcome barriers to employment and self-sufficiency.
"Rise has had an integral role in developing my career," adds Sarah. "I love that I have had the opportunity to evolve within a company. They provide employees with excellent training opportunities that help us grow and support the people we serve. The leadership at Rise is very open with everyone, and they receive input from employees. We have a voice and value."
Away from work, Sarah loves being outside! In the spring, summer, and fall you can find her camping, hiking, and swimming. In the winter though, she hibernates and prefers jammin' out to the radio.
Thank you, Sarah, for bringing your passion to Rise and making a positive impact in the lives of people with disabilities!