Team Member Spotlight: Sarah Gustafson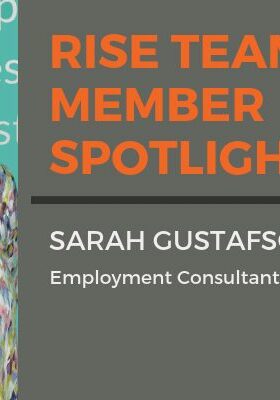 When there is passion in what you do, you can do anything. Sarah Gustafson is an employment consultant with Rise and proves this every day. She demonstrates her passion in her work by assisting people with intellectual and development disabilities achieve their goals through her special brand of warmth and care. Sarah assists individuals in her community who are often passed over for traditional jobs by helping them identify job opportunities, create resumes, and apply for jobs. Once they get the job, Sarah continues to work with them by providing support as they get comfortable and up to speed in their new position.
Throughout the process, Sarah works one-on-one with each candidate to determine which jobs are the best fit for their unique skills and interests. She also provides training for the employers to ensure that both the employer and employee are comfortable with the new working relationship. And her duties don't stop there. She regularly checks on people to make sure they have everything they need to be successful.
Before coming to work at Rise, Sarah worked in retail management for 17 years as a hiring manager working with individuals hired through Rise. It was through that work that she discovered our program and recognized her desire to give back to the community.
A Day in the Life
One of best perks of her job as an employment consultant for Sarah is that each day is different from the last. She begins her work day by setting her schedule, but things always come up unexpectedly so being flexible is essential for her. She works at three different Rise offices around the Twin Cities as well as checking in at the workplaces for each individual on her caseload of her employees. In her own words, Sarah's day is "whatever people need."
Her passion for assisting others is precisely why she chose to work for Rise. Sarah loves to discover the hidden talents in people and showcase them on the job. She's passionate about Rise's mission and enjoys the work environment, which she describes as "incredibly respectful."
Sarah says she feels a tremendous sense of accomplishment when she finds work for a person who has not yet found success in the workforce. Her goal is to highlight the talent that everyone else may have overlooked.
A Sense of Purpose
Sarah says that Rise is a "fantastic agency to work for and has some of the most interesting people to work with. I've never received this kind of support and respect in my life at any other job."
Outside of work, Sarah enjoys spending time outdoors hiking, skiing, and swimming. She also loves music and plays both the violin and piano.
Rise is excited to partner with amazing community members as a part of our recruiting and placement programs. Contact us today to learn more about our programs and our team.
Are you looking for an exciting new job opportunity? Check out our open careers today!