Team Member Spotlight on OCS Michelle Rimmer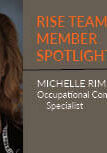 After 20 years of working at Rise, Michelle Rimmer is grateful for a career which combines having an important purpose with the support and flexibility needed to enjoy a meaningful work-life balance.
Fulfilling a dual role as both occupational communication specialist (OCS) and staff interpreter, Michelle uses her fluency skills in American Sign Language (ASL) to support people who are Deaf, Deafblind, and Hard-of-Hearing served in Rise's Minnesota Employment Center (MEC) program in St. Paul.
With offices throughout the state, MEC is a unique program which provides comprehensive employment and job placement services to assist people achieve their goals, increase their self-sufficiency, and lead self-determined lives in the community. Michelle has been an OCS since starting with Rise and added the staff interpreter job 15 years ago.
"I've always worked in social services and really enjoy working one-on-one with people," says Michelle. "Our focus at MEC is on meeting the individual needs of the people we serve, and as a team, we are fortunate to work well together with the help of supportive leadership."
Michelle provides ongoing support to an average of ten people. She also does rapid response — supporting additional individuals who need interpretation support whenever necessary. She often accompanies people during job interviews, orientation, and with follow-up visits at their place of employment to help ensure their initial and continued success.
When asked about one of her most challenging assignments, Michelle references supporting a structural design engineer. "The engineering jargon was like learning a third language in ASL!" she jokes.
"The support and flexibility my team mates and I receive from Rise are second to none!" Michelle adds. "As a single parent, I can't imagine being working anywhere else."
Away from work, Michelle enjoys working out, walking and caring for her plants … all 81 of them!
We appreciate having talented and dedicated people like Michelle as a part of the Rise team!