Team Member Spotlight: Michelle Thompson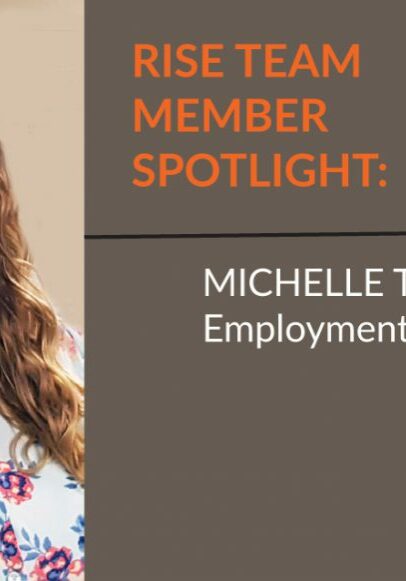 An energetic and active person, Michelle Thompson assists an average of 20 people who have mental health and cognitive barriers to obtain and maintain competitive employment.
In her role as an employment consultant at the Rise Lindstrom location, Michelle uses a strengths-based approach to support people in finding a job that is a good fit for each individual. She also provides follow-up services after the person gets a job to help ensure that they are successful on the job.
"I focus on job development for the person by their matching skills and interests with job responsibilities," says Michelle. "I support people to meet their employment goals and encourage them as they become more self-sufficient. I also develop a relationship with employers to learn about the different positions and what makes a successful employee."
Michelle's additional job responsibilities include participating on a multi-disciplinary team to better serve individuals. The team includes adult mental health case managers, vocational rehabilitation counselors, guardians and adult foster home providers, Adult Rehabilitative Mental Health Services (ARMHS) representatives, an adult mental health therapist, and more.
"Collaborating to positively impact the lives of the persons served, as well as employers, is meaningful and rewarding to me. Individuals gain a sense of purpose and accomplishment, as well as exposure to social interaction. Additionally, employers meet their business needs while learning about mental health. Overall, we make a difference in the economy, society and the local community by directly working with and supporting employers."
Michelle has a human services degree from the University of Minnesota Morris. She began her career as a home health aide and later worked in a group home. She's been with Rise for three-and-a-half years.
When asked what she appreciates about Rise as an employer, Michelle adds that she likes the flexibility in her schedule. She is also grateful that Rise is large organization with an ability to be resourceful and offer long-term follow-up supports to the people served.
Outside of work, Michelle is busy with her family, including supporting her two girls as they participate in activities. She also enjoys working out, playing tennis, cross country skiing, and making healthy, homemade food.