Team Member Spotlight: Juleen Lee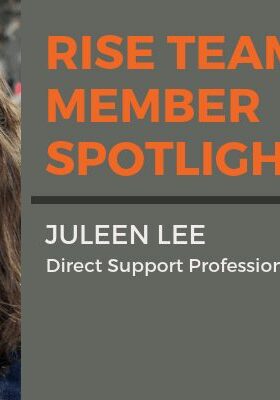 Juleen aims to always go above and beyond in her role as a direct support professional (DSP) / case manager at Rise, and it shows. Her commitment to her exceptional work ethic reveals itself time and time again through the steady stream of compliments she receives and through the success her team achieves.
Juleen plays a vital role at Rise by overseeing a team of workers who assemble kits into their final products at nVent (formerly Pentair). One her favorite parts of her job is that Juleen gets to "serve an important role in helping people who need it most." Her selfless attitude and passion for helping others makes her a valued member of the Rise team.
A day on the job for Juleen is one that is fast-paced and constantly in flux – no two days are ever the same. Having a position that presents new challenges to tackle and new people to work with is an element of Juleen's job at Rise that she's quite fond of. She primarily works on site at nVent where she supports  a team of six to ten people with intellectual disabilities, but she also spends time helping to sub in for other Rise DSP team members at other sites as needed.
Juleen takes great joy in applying her warehouse background to help train and assist people to work in the manufacturing industry. Her team is tasked with assembling various parts into completed product kits, so Juleen oversees that process and applies a final quality check on all product kits before they're sent out.
Why does she work at Rise? In her own words, Juleen says: "I've always wanted to work with people and be helpful." This desire makes Rise a perfect fit as there is no shortage of opportunities for her to do so. Many of the employees whom Juleen oversees are individuals who have a tough time identifying and securing employment opportunities. Being able to provide people with the essential training and guidance they need to do fulfilling work contributes to how much she enjoys her job.
Juleen loves working for an organization like Rise which, "recognizes and appreciates their employees." While Juleen maintains a kind and humble personality, she enjoys receiving compliments on a job well done. "People always thank me and tell me that I'm doing such a great job, and I just say. 'Oh, I am? Excellent!'"
When she's not at work enhancing the lives of others through her kind and loving spirit, Juleen enjoys spending time driving around in her jeep with her husband. They frequently spend their free time up north enjoying outdoor activities. Juleen grew up in Spring Lake Park, but today lives in Lino Lakes.
Rise is excited to partner with community members who are interested in making a difference. Check out our open opportunities for your next career move!