Rise Team Member Spotlight: Jebb Anderson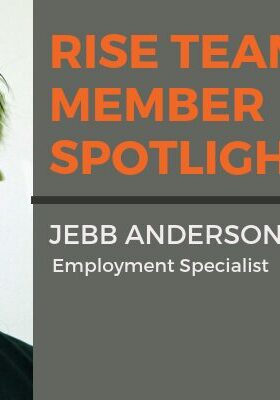 Jebb Anderson's official title at Rise is an employment specialist, but the vast scope of his role makes it challenging to summarize all that he does in a single job title. Jebb has many skills in his tool belt and plenty of passion for the Rise mission, which allows him to provide support in a variety of ways.
A good chunk of Jebb's job consists of filling in where there is a need. When another staff member at Rise can't work, Jebb's is ready and waiting in the wings. Since he's been working for the Rise organization since 2010, Jebb can sub in and execute a wide range of different roles. Some days Jebb is supporting the people served by providing job education, some days he's helping to facilitate transportation, and on others he finds himself working with business owners and supervisors.
"I sure wear a lot of hats," Jebb says about his work with Rise.
Which hat is his favorite?
Jebb says that he loves all the work he does, but if he had to pick his favorite element of his job it's when he gets to help set up a new site. Rise is always growing and expanding the work they do, and when they start a new location, they often send Jebb to help with the transition process.
Starting a new site requires Jebb to build trust and a strong rapport with the business owners and supervisors at the site, as well as provide support, training, and guidance to the persons served who will work at that site.
"I love working for Rise because of the people," Jebb says. "It's awesome to see them succeed at something that people didn't think they could do. People can do great work if they get the opportunity, and I really enjoy helping them do so."
Before joining Rise, Jebb was an industrial tech teacher. A coppersmith by trade, when Jebb is not working, he loves spending time with his family and tinkering in his basement shop. He's especially passionate about making lighting.
"One of the great things about working for Rise is that they're not just client-centered, but also staff-centered," Jebb says. "Rise has always allowed me to utilize my individual skills and abilities, which I greatly appreciate."
And Rise greatly appreciates all the wonderful work Jebb does.
Rise is excited to have great people like Jebb on our team, working hard to help us carry out our critical mission in the community. Are you looking for an exciting new career opportunity?
Check out Rise's open job positions today!