Team Member Spotlight: Janine O'Connell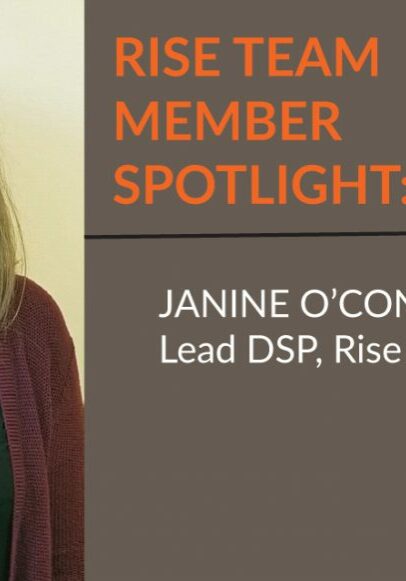 After 25 years of working at Rise Anoka, Janine O'Connell has honed an impressive depth of skills. In fact, one might say that the direct support professional (DSP) lead has mastered the art of adaptability; a useful talent for someone who often serves in a float capacity. Janine's primary responsibilities include coordinating and facilitating programming and community outings, as well as providing direct support to the 65 people served there.
The Rise Anoka location serves people 21 and older who could benefit from employment and related Day Training and Habilitation services. Janine supports people who have a range of developmental, intellectual and physical disabilities to carry out their customized plans that include life enrichment activities, volunteer opportunities, and individualized employment plans.
"I like working here and building relationships," says Janine. "It's rewarding work and I have fun doing it. I enjoy coming up with creative projects and activities. I've seen a lot change over the years, and it's nice to see the excitement in the people served."
With an initial interest in occupational therapy, Janine was introduced to the disability services field while working at a group home in the early '90s. She came to Rise in 1994 and was a direct support professional for 23 years. Janine has been in her current role for two years.
"Rise is a fun and great place to work, and I'm grateful to have supportive management."
Away from Rise, Janine enjoys spending quality time with her family, including her granddaughter. She and her husband are dedicated Vikings fans and love to travel. Most years they take a trip to watch a Vikings away game in a different state. They recently got their passports and plan to go abroad soon.
Thank you, Janine, for your years of service. We look forward to many more!