Team Member Spotlight: Ben Streitz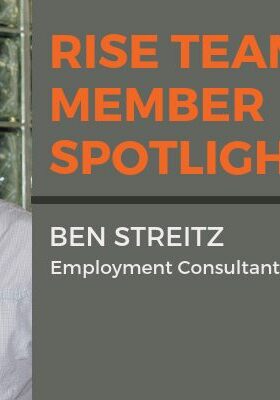 Ben Streitz has a passion for assisting people achieve their employment goals. As an employment consultant at Rise, Ben gets to tap into that passion every single day. Ben's job calls for him to create, nurture, and manage relationships with business owners and hiring managers in his community. He then uses those relationships to match individuals who have mental health barriers to ideal employment opportunities.
Ben says the favorite part of his job is when he pairs an employee with the perfect job. "I enjoy this job because it allows me to work directly with the people Rise serves.  To see someone's confidence and self-esteem rise after getting hired is a rush for me."
A University of Minnesota alum, Ben has a strong business background and has held positions such as vice president, director, and managing partner with other companies before joining Rise. Ben's impressive business background helps him tackle the complexities of working as an employee consultant at Rise.
"I enjoy the unique challenges and many variables involved with placing an individual in the competitive workforce," Ben says. Success in Ben's role is all about finding the best fit.
What does a day in his shoes look like?
"I spend a lot of time in the community building business relationships," Ben said.  He also works with mental health therapists and vocational counselors to create employment plans for the individuals Ben helps partner with the businesses.
Ben was a long-time admirer of Rise before he began working here. "I have a very close friend who worked at Rise for 20 years.  I always enjoyed hearing about the success Rise had working to serve people with disabilities.  When the opportunity presented itself at Rise, I thought, 'now would be a good time in my working career to help people using my background and contacts.'"
When he's not at work, Ben likes to spend his time fly fishing and playing tennis.  Ben lives in Fridley, Minnesota, with his wife. Their two children just graduated from college, so hopefully that'll mean Ben'll have a bit more time to spend casting his fishing pole and working on his backhand on the tennis court.
"I have worked at some really great companies," Ben says.  "And at Rise I am continually amazed at the dedication, commitment, and energy of the employees that I work with."
Rise is excited to partner with amazing community members as a part of our recruiting and placement programs. Contact us today to learn more about our programs and our team.
Are you looking for an exciting new job opportunity? Check out Rise's open careers today!