Team Member Spotlight: Antiwnette Holliday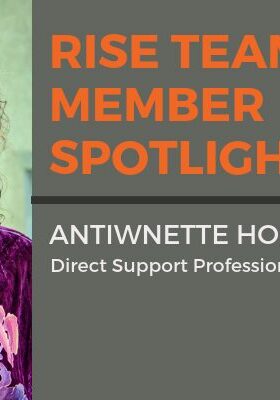 Currently the program supervisor at Rise's Coon Rapids site, Antiwnette Holliday is proof that great things come to people who work hard and bring passion to their work.
Antiwnette joined the Rise organization five years ago as a temp, and her talent and potential were quickly recognized and rewarded with several promotions. Before becoming a program supervisor, Antiwnette served as a direct support professional (DSP), and a case manager.
"At Rise, we're like a big village," Antiwnette says when asked why she loves working for Rise. "There are many locations and programs, but everywhere I go at Rise feels like one big family. We all work together to provide the people we serve with the best care."
What's a day in Antiwnette's shoes like? Antiwnette stays busy supervising a team of six-to-eight people and overseeing a caseload of 30.
"Every day is different, some days I'm in the office doing paperwork, others I'm covering at a site," she says. "It makes my job very exciting that every day presents new challenges."
Antiwnette says that her favorite part of her job is that she's always interacting with people. "I love getting to know people," she says. "Especially all of the wonderful people we support on our caseload." The people that are lucky enough to interact with Antiwnette are grateful for the support she provides in helping them reach their goals.
Outside of work, Antiwnette loves to spend time with her family. She has three children aged 11, 9, and 2, which as you can imagine, keep her pretty busy. When she gets some time alone, she enjoys shopping and coaching her sister, who competes in beauty pageants.
In August of 2018, Antiwnette was awarded as the Rise Champion.
Rise is proud to have people like Antiwnette helping us carry out our mission.
Are you looking for an exciting new job opportunity? Check out our open careers today.