Summer college interns assist with important projects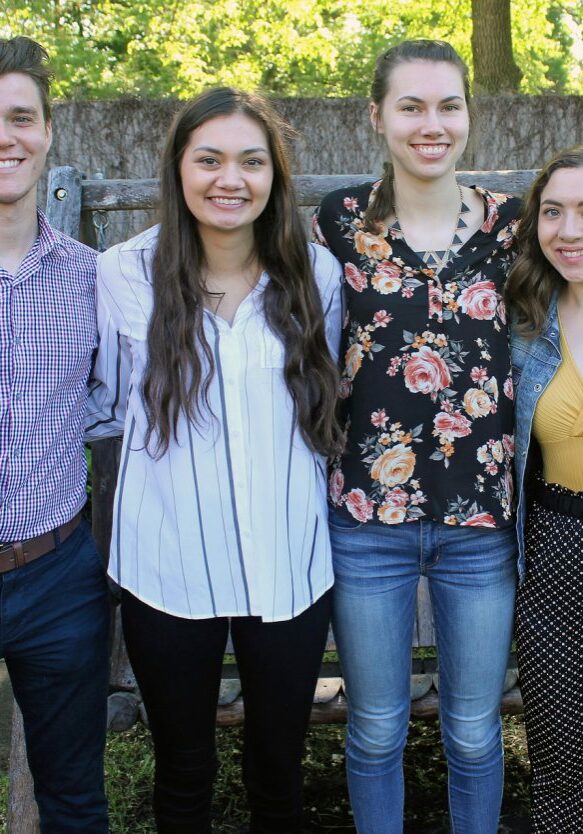 Rise welcomed four college interns in June to work over the summer in human resources, volunteerism, and development/special events. They also participated in biweekly professional development and training sessions in a wide range of topics.
"We wanted to offer them the opportunity to learn more about nonprofits, social services, and specifically, disability- and employment-related programs," said Erin Braaten, Rise's vice president of human resources. "Our team members appreciated their enthusiasm, creative ideas, and hard work, and hope they, too, feel it was a mutually rewarding experience.
The interns came from different Minnesota and out-of-state universities.
Elizabeth Trainor
Elizabeth Trainor hails from Maple Grove and will be a junior this fall at North Dakota State University (NDSU) in Fargo, majoring in human resources (HR) management with a minor in women and gender studies.
After researching potential summer internships in the Twin Cities, Elizabeth said, "I wanted to be part of an organization that makes a real difference in people's lives. Right away, I could tell that everyone at Rise was not only kind and person-centered, but willing to give me opportunities to grow and expand my knowledge in all areas of human resources. What an amazing opportunity!"
Elizabeth worked with Rise's HR Department, specifically on safety-related issues. She updated the Employee Safety Handbook as well as developed and sent out materials to Rise team members on important safety procedures and tips.
She felt she was able to expand her communication skills as well as get a foundation of knowledge about the HR field before entering NDSU's business program this fall.
Elizabeth plans for a career in HR and added, "I want to use my newly acquired skills and education to help foster a supportive, diverse, and productive environment in a company that makes a difference."
In her free time, Elizabeth enjoys reading and cooking.
Caitlin Maly
Looking for an internship that combined her interest in education and volunteering, as well as some experience working in the nonprofit world, Caitlin Maly found just what she was looking for at Rise. She is from Plymouth and just graduated from Luther College in Iowa with a B.A. degree in elementary education and a reading specialization. She will be student teaching this fall.
"Rise's vision stood out and was important to me when I was deciding on an internship because it is how I envision my future classroom to be: progressive, supportive, and collaborative."
Caitlin worked on creating a volunteer recognition plan for Rise as well as updating volunteer trainings, and researching how Rise could implement the 'best practices' of volunteer management.
"I am hoping to be a teacher for at least a few years," Caitlin said. "I am not set on a grade, but so far third has been my favorite. In the future, I also hope to work in the nonprofit sector, most likely at an organization still involved with education and one that promotes inclusivity because those are two of my passions."
Currently training for a half-marathon, Caitlin also enjoys traveling, cooking, volunteering, hiking, playing piano, and spending time with family and friends.
Kaitlyn Vondall
'Kaitlyn with a K' Vondall interned with Rise's development and special events team. From St. Francis, she will graduate in May 2020 from the College of St. Benedict with a major in biology and minor in business.
After researching nonprofits for a summer internship, Kaitlyn said she felt Rise's mission was in line with her values.
"I want to make a positive difference in the lives of others and felt I could do that at Rise. I could also tell the organization not only cares for the people served, but also its team members, which I think is really unique and important."
Kaitlyn worked on several projects over the summer, primarily on Rise's upcoming Celebrate Rise Fundraising Gala in October. She helped solicit for donations, kept track of donors, and sent out thank-you letters. She also researched new platforms for recruiting and getting people involved in Rise.
"I was able to build some great professional relationships with others in the organization," Kaitlyn added. "Everyone was so nice and supportive and there was so much I learned from everyone. I was also able to deepen my understanding of the nonprofit sector.
"I am not really sure what my future career path will entail, but I hope to work for an organization like Rise and make a difference in people's lives."
Eduard Kuzko
Eduard Kuzko is from Minneapolis and earned his B.S. degree from the University of Minnesota in sociology and business; he is currently working on his graduate degree from the U's Carlson School of Management. He will graduate in May 2020 with a master's in human resources and industrial relations.
Eduard said that he was attracted to Rise because of its value-driven work. "Rise is making a difference where it matters."
Eduard developed a Diversity & Inclusion committee, worked on retention strategies, updated employee records, and conducted various interviews and surveys regarding diversity, inclusion, and retention issues.
"I feel I gained valuable experience at Rise, developed a good network of professionals, and had opportunities to aid in the betterment of the organization," he added.
Eduard plans to pursue a human resources career in talent acquisition and/or training and development. In his free time, he enjoys tennis and spending time with his girlfriend and two dogs, Molly and Luna.
"I hope Elizabeth, Kaitlyn, Eduard, and Caitlin feel they personally and professionally benefitted from their time at Rise and perhaps will consider a career in this field," said
President Lynn Noren. "The projects they worked on will benefit Rise for years to come and I thank them for their good work."
Rise's fall internship positions are posted on our website at: rise.org/internships-opportunities/.
Photo: From left are interns Eduard Kuzko, HR diversity & inclusion; Kaitlyn Vondall, development & special events; Elizabeth Trainor, HR safety; and Caitlin Maly, volunteer program.
This article appears in the September 2019 issue of the Rise Reporter.