WE'D LIKE YOU TO MEET – SARAH LAMBERT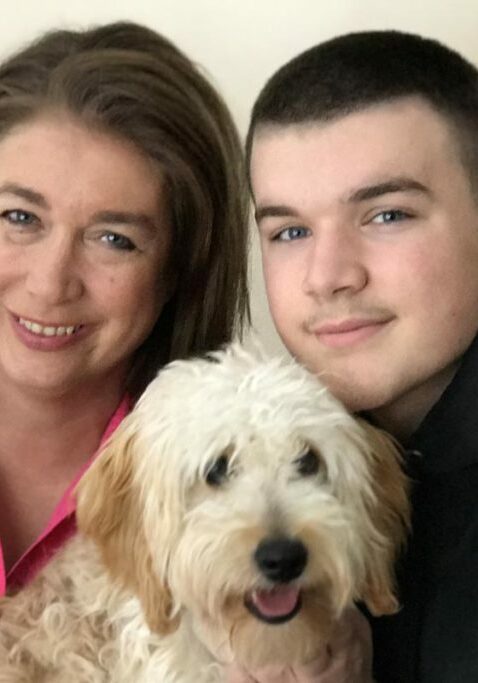 Posted on Jun 26, 2017
Turning Sarah Lambert's passion – her love of four-legged animals – into a business venture has resulted in Sarah's Cat & Doggy Daycare in Fridley. She hopes to be "your best friend's second best friend."
With assistance from Rise's Employment Consultant Amber Barnes and much-appreciated support from her extended family, Sarah launched her pet-sitting service in January and is hoping to grow it in the coming months. She offers day and evening pet-sitting as well as short- and long-term boarding for cats and dogs (small to mid-sized).
"I have always loved dogs and cats and am often asked to take care of others' pets when my friends or family go on vacation or are away," Sarah said. "So I decided to take what I really enjoy and start my own business."
Sarah was originally referred to Rise for employment services from a counselor at Minnesota Vocational Rehabilitation Services. She tried out a couple of retail positions, but discovered those were not for her.
"I've been working at Tube Bending Specialists in Coon Rapids for more than three years doing part-time custodial work. I love it there because the people are so good to work for – they're the best. But I also wanted to try to start my own business. Amber and my family have been so helpful; they have given me a lot of really good advice and I truly value all their support."
"Working with Sarah on her business has been fun and it's interesting that she wants to do something so different with her career," said Amber. "We've had many things to figure out in setting up a business, but it's coming together really well. I'm confident she's going to make a go of this."
One of her sisters is currently helping Sarah set up a website where customers can go for more information and to schedule care. She can be reached at sarahspetdaycare@gmail.com.
Sarah enjoys gardening, biking and playing tennis with her son, and spending time with her big family. Sarah and her son Gabe (shown here) also have spent time in Mexico helping build homes for people with a nonprofit organization, Youth With a Mission-San Diego/Baja, which her brother Sean runs.
Sarah's advice to everyone is: "Don't put your dreams on the back burner. If you have a passion, go for it — do it!"