WE'D LIKE YOU TO MEET MARY RICHARDS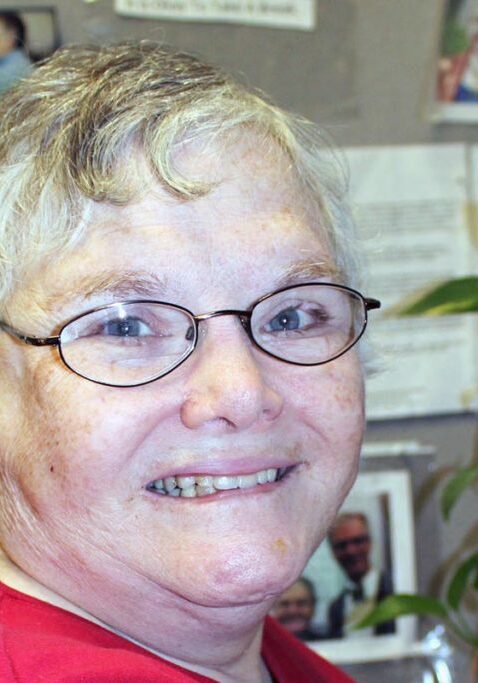 Posted on Feb 13, 2017
Just when most of her peers are thinking about retiring, Mary Richards is hoping to start a new career and is pursuing her job search in earnest.
"I'd much rather be working than at home feeling sorry for myself," she said. "Everyone needs to have new goals, and if I can share my life experiences and help others, that's what I'd like to do."
Mary has been a data entry clerk with Rise's Data Ability program in Crystal for about five years. She is self-taught in her computer skills and has had other receptionist and clerical positions before coming to Rise at age 60.
"I've been typing since I was five years old and have always liked it," Mary noted. "I just learned computers and programs as I went; my dad and I both enjoyed working on the computer so we did it together. I also bought a lot of books to help me learn."
Through a special grant from the Greater Twin Cities United Way, Mary is working with Rise Placement Specialist Sarah Gustafson to develop an updated career plan.
"My dream job would be to be a peer mentor or job coach and work one-on-one with people helping them on the job," Mary explained. "I think that my willingness to use my own life experiences of living with a brain injury, plus my own survival skills, could really help others to succeed."
In addition to her jo at Data Ability, Mary is active with the Minnesota Brain Injury Alliance (BIA) and helps raise money through their annual Walk for Thought, attends a monthly support group, and participates in various self-advocacy and outreach efforts.
Mary is especially busy during the Minnesota State Legislative session, contacting her representatives, attending rallies at the Capitol in St. Paul, and helping other consumers meet with their legislators to talk about important brain injury and disability issues. She also serves on the Brain Injury Advisory Committee for the Minnesota Department of Health and Human Services as well as on Rise's Self-Advocacy Council.
One of Mary's favorite endeavors this past year was creating a mask through a special BIA-sponsored project called, Unmasking Brain Injury in Minnesota. Mary's mask is one of more than 1,000 masks that are on display in Minnesota, each personally designed to express the individual's journey with his or her brain injury.
"I used pipe cleaners to represent my umbilical cord that was wrapped around my neck five times causing my brain injury."
Mary has lived in her own condo in Roseville for 37 years and drives to work. She enjoys spending time with her 90-year-old mother tending to the Giving Garden through St. Christopher's Episcopalian Church. She belongs to the Twin Cities Card Players Club and meets "really nice people" playing Spades and 500 twice a week. Mary also takes a weekly T'ai Chai Chih class specifically adapted for people with brain injuries.