WE'D LIKE YOU TO MEET – ALEX BLAISDELL!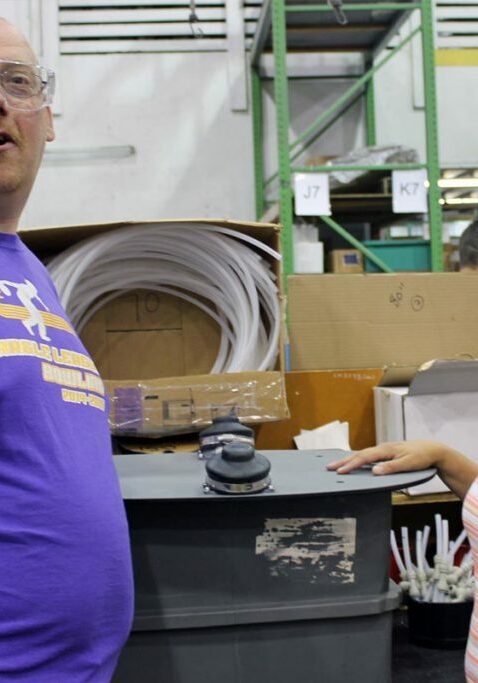 Posted on Jun 19, 2017 | Tags: |
When Rise Site Supervisor Diana Gangl was tasked with starting up a new work crew at Aggressive Industries, she knew that one of the three team members she needed to get the contract off to a great start was Alex Blaisdell. Diana knew she could rely on Alex's wide range of skills and reliability to help meet Aggressive's expectations of high quality workmanship.
"Alex is always eager to learn new tasks and I knew he would be a    really good fit for this community work site," said Diana. "We hope to grow the team as additional work opportunities arise here and Alex loves to work on whatever project Aggressive managers ask him to do. He and the team receive a lot of natural supports and compliments from them."
Located across the street from Rise's administrative offices in Spring Lake Park, Aggressive   Industries has been manufacturing high-quality rotationally molded products since 1972. Most of the products they produce are for other companies, but they also have proprietary products.
Since he started on May 16, Alex has worked on a number of different projects. Among his favorites are assembling pumps used for hand-wash stations. Even with many parts and        procedural steps, Alex is able to assemble about 20 pumps a day.
Another multi-faceted work project that Alex excels at and enjoys doing is assembling water tanks that are placed on the back of four-wheelers and used by farmers to spray water or chemicals on their fields.
"I like this company, Aggressive Industries," said Alex. "I'm doing good here and I'm improving my skills every day and getting faster at building the pumps. I am proud of the work I do."
Alex has been with Rise since July 2000 and has worked with teams at several community businesses. He works side by side with Aggressive employees and has enjoyed making new friends at work.
Alex recently turned 40 years old and his extended family surprised him with a big birthday party Up North. He lives in a group home with three other guys, and in his free time, Alex especially enjoys fishing, watching movies, and playing video games.