SHANNON FINDS A PERFECT FIT WITH HER CULINARY ASSISTANT POSITION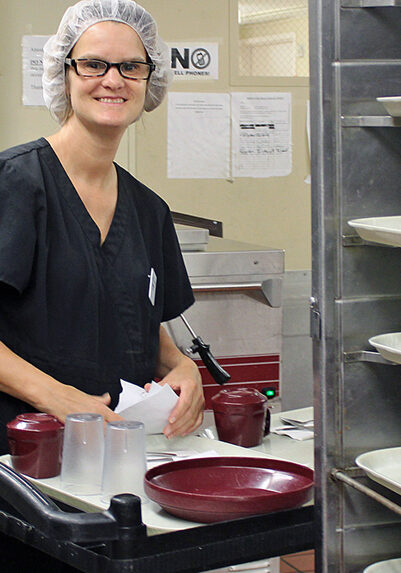 Posted on Aug 24, 2015
"I just love coming to work – I'm always excited to get here," said Shannon Nurmi about her job as a culinary assistant at Park Health & Rehabilitation Center in St. Louis Park. "I have always enjoyed being with seniors and felt a connection with them so I've wanted a job like this for a very long time."
Shannon worked at a Perkins restaurant in Stillwater for 14 years before moving to the Twin Cities and coming to Rise. Shannon has worked at a number of Rise production facilities and community work sites since 2003, but was ready to find a competitive job.  After a long job search, she was about to give up when she interviewed and was hired at Park Health in July 2014.
Working from 3:45 p.m. until at least 8 p.m., Shannon helps prepare dinner trays based on people's individualized dietary tickets. It requires close attention to detail to ensure that each person gets just exactly what he or she requests.
Leslie Erickson, director of Nutritional Services, is so impressed with Shannon's work ethic, skills, and the way she connects with the residents that she contacted Rise to see about hiring another individual.
"Shannon is meticulous in her work, extremely conscientious and responsible, and has a friendly smile for everyone," Leslie noted. "She cares about her co-workers and the residents. For instance, when she realized a resident was not responding to her as he normally would when they chatted, Shannon alerted the staff immediately. The gentleman had suffered a stroke and that Shannon got him quick attention made all the difference."
"I have volunteered at Maranatha Presbyterian Home for a long time visiting with the residents there, especially the ones who don't have family or friends who come," Shannon said. "My sister is a director of a nursing home in Stillwater and my mom worked at one for years so I guess it comes naturally to me."
Placement Specialist Rachel Tanning refers to Shannon as a "shining star," and says she is proud of how well she is doing. "Even when her mom died a few months ago, Shannon didn't let her personal grief prevent her from doing well on the job. I'm very proud of her."
Shannon takes Metro Mobility to work from her home in Brooklyn Center. In her free time, Shannon enjoys relaxing in Stillwater where her sister lives on five acres with her three dogs. She also visits her dad who lives in the nursing home where her sister works.
This article appears in the September 2015 issue of the Rise Reporter.