PIERRE & RIZIKI ARE FILLED WITH HOPE FOR A NEW LIFE IN THE U.S.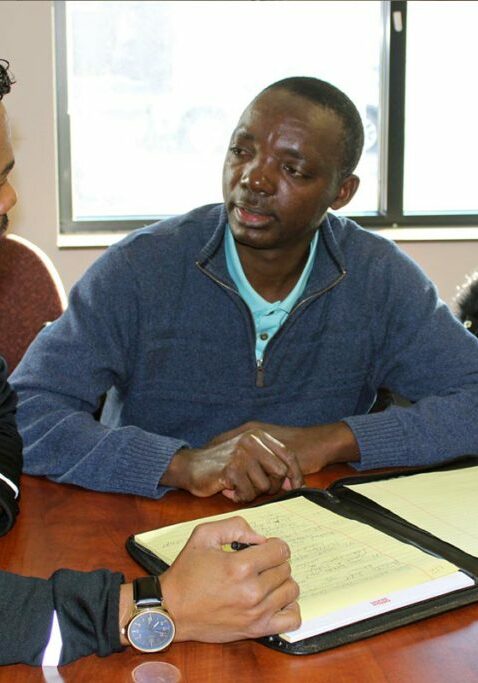 Posted on Feb 21, 2017
HAVING LIVED IN various refugee camps throughout Africa since he was a child, Pierre Gatera dreamed of offering his three children a better life – one of hope, security, and accomplishment.
Pierre's parents escaped Burundi to Rwanda where they lived as refugees until 1994. Born in Rwanda in 1975 as a refugee, Pierre and his birth family escaped from Rwanda back to their native country of Burundi when war broke out in 1994. Continually fleeing from rebel fighters, Pierre moved to Nairobi, Kenya, in 1997, and finally to the Kakuma Refugee camp, located in one of the poorest regions in northwestern Kenya. There, long-term refugees dealt with malnutrition and serious health issues, and lived lives of hopelessness and desperation.
"Living in a hostile environment, you don't get to think about the future," Pierre explained, "because you are dealing with just meeting your daily needs of food, health, and safety. It is a very oppressive way of life."
Despite their deprived living conditions, Pierre was grateful to receive an education and join a Christian International Pentecostal Holiness Church. He thrived on his involvement with his fellow parishioners and was active in the choir, teaching Sunday school, and helping start a Bible school with the pastor. Pierre would go on to become a teacher, pastor, and principal of the Kakuma Interdenominational School of Mission college.
Pierre met Riziki Appoline while they were both living in the Kakuma camp in 1997.  She, too, was active in their church community. Pierre and Riziki married four years later and are now the proud parents of a son and two daughters, ages six to fourteen.
The family was sponsored by Arrive Ministry and immigrated to the Twin Cities in September 2016.
"It was so beautiful – so green and the air was so clean," Pierre remembers of their first impressions. "They had warned us about the Minnesota winters, but we still wanted to come here. We heard people are very nice."
Today Pierre and his family are grateful for their comfortable, three-bedroom apartment in South Minneapolis. The kids attend school and enjoy playing in a nearby park.
The family attends Northwood Church in Maple Grove and are grateful to the many wonderful members who support them by driving them to Sunday services and Wednesday night kids' programs, taking them grocery shopping, and helping them assimilate into American culture and life in Minnesota.
Because the family was receiving MFIP (Minnesota Family Investment Program or welfare) from Hennepin County, they were referred to Rise's Pathways for Refugees program. Placement Specialist Mohamed Daher (left in the photo) assisted Pierre with career planning, applying for jobs, placement, and critical follow-up support services.
Mohamed had also lived a refugee camp before he immigrated to the U.S. in January 2013, so he understands the tremendous challenges Pierre and his family face.
Pierre was recently hired as a janitor with Marsden Services and works from 5 p.m. to 1 a.m. on a cleaning crew at Target Plaza in downtown Minneapolis. Riziki was excited to get a job with Air Serv Facilities Services as an aircraft cabin agent.
"We needed Mohamed's assistance and very much appreciate his support, advice, and help so we can achieve my dreams," Pierre added. "I believe that God blesses us so we can bless others."
After working overnight and getting the kids off to school, Pierre and Riziki head back downtown to the International Education Center where they attend about four hours of classes to help with their English, as well as better understand U.S. government policies and systems, and American culture.
"We want to adapt to our new life as fast as we can," Pierre added. "It is so good to have freedom and dignity."
This article appears in the March 2017 issue of the Rise Reporter.