NATHALIE USES HER TALENTS AND TAKES EVERY OPPORTUNITY TO GIVE BACK.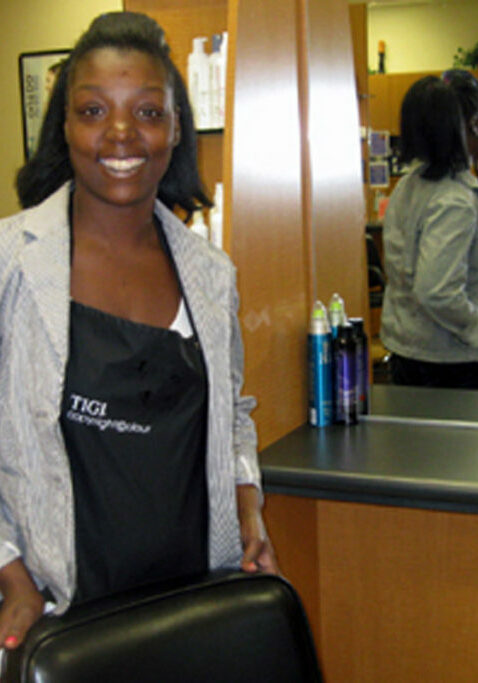 Posted on Dec 10, 2013
Having benefitted from others' kindness and support, Nathalie uses her talents and takes every opportunity to give back.
When Nathalie Erickson found out that staff from Rise's Mental Health and Housing Supports programs were going to participate in the Anoka County Project Community Connect, she was "all in." There, in one place on one October day, people who were struggling with homelessness and poverty could connect with needed services.
Thankful for Rise's and others' support, Nathalie is driven to give back. She seizes every opportunity to donate her time and talents to help others by giving free haircuts.
"As a professional hair stylist, I think it's the best feeling in the world to pamper someone and give them a much-needed morale boost. I love to help them look their best so they can feel good about themselves. In that moment, I feel complete, I'm happy."
Nathalie has faced many challenges in her 27 years, and a few years ago, found herself a single parent of two young boys. She was battling depression and anxiety, couldn't find a job, and didn't have a place to call home.
Nathalie's loving extended family gave her what support they could, but the young mother knew she needed to tackle her issues head-on. Nathalie met Sandy Jorgensen, one of Rise's mental health and housing practitioners, who referred her to Rise for housing support services. Staff helped her move into one of Rise's transitional housing units in March 2011 and apply for day care support so she could attend school to pursue her dream career.
At Empire Beauty School in Spring Lake Park, Nathalie was a stand out, winning local and national competitions and "turning heads" with her talent.
"I've always been insecure, but styling hair was the one thing I knew I could do," said Nathalie. "The Empire instructors and students were so kind and supportive; I was able to start trusting people again. I began to believe everything would be OK."
Nathalie found a great job at Fantastic Sam's in Brooklyn Park where, in addition to styling hair, she was recently promoted to hair product coordinator and manages the salon's hair extension program. Nathalie appreciates her tight-knit group of co-workers who provide a mutually supportive work environment in which she's thriving.
With her sights set on the future, Nathalie plans to take her manager's test in February which would open up new opportunities. She is also considering becoming a hair styling instructor at Empire.
"I'd love to continue working in a salon, and in addition, have a free services salon that would enable me to give back to the community. I'd like to provide free hair services, vouchers for clothing, plus offer individual and group supports for people in need."
Sandy meets with Nathalie weekly to assist her with her personal and professional goals. Together they work on her mental health issues, budgeting, parenting, and whatever else comes up in her busy life.
Rise also provides Nathalie with a rental subsidy for the apartment Sandy helped Nathalie find. It's in a nice quiet Anoka neighborhood, close to a park for her boys, now ages four and seven; some family members live nearby.
"I admire Nathalie for her resilience, motivation, and how she wants to give back to others in appreciation for what she does have," said Sandy. "She is a joy to work with."
"So many good people like Sandy and others at Anoka County have helped me along in my journey," said Nathalie. "I can't imagine where I would be today without their support. I used to live in darkness with only moments in the light; now I have new light and everything is colorful."
"I'm very grateful to have this talent," Nathalie added. "I feel it's my calling to give back to others. At the end of the day, if I can help change a person's life in this little way, maybe they will, in turn, help another."