MICHAEL SACK CO-AUTHORS TWO MEN ON BLOG ABOUT SPORTS AND ACCESSIBILITY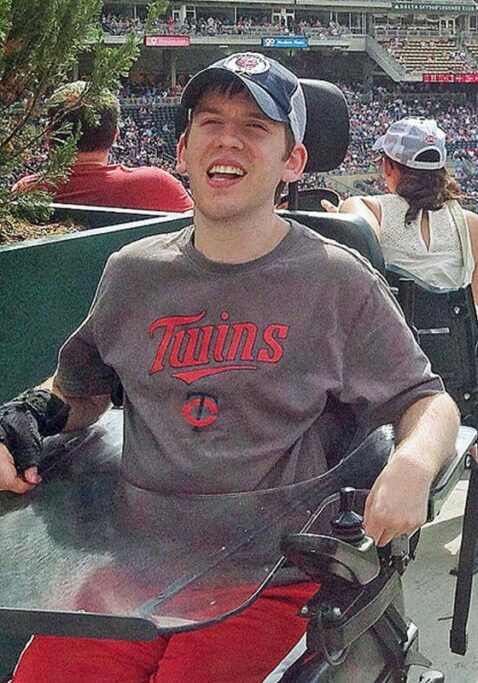 Posted on Aug 24, 2015
Minnesota Twins fans are really enjoying this season as the team sets its sights on the playoff games at the end of summer. Among their most avid fans are Michael Sack, a data entry clerk with Rise's Creative Partnerships South program in Blooming-ton, and his buddy, Sam Graves. Together they have co-authored Two Men On, a blog dedicated to sports and accessibility topics, since January 2010.
The two young men met in high school and their friendship formed around their mutual love of sports, especially Twins baseball. Michael and Sam have split a Twins season ticket package for the past six seasons and love attending home games at Target Field. He's shown here at a game he attended with his dad in August.
Michael said he was thrilled to throw out the first pitch at a Twins' home game last September. His favorite team to cheer on, other than the Twins, is the Chicago Cubs.
Michael and Sam's blog commentaries address a wide range of baseball-related topics such as Major League Baseball trades and hires, changes to rules, and ballparks.
After reading their blog, Twins President Dave St. Peter invited Sam and Michael to tour Target Field. They came with a three-page list of things to check out for accessibility, including doors, restrooms, elevators, seating, concession stands, and kiosks. Their input was important to help ensure that everyone who comes to an event at Target Field has a great time.
Their blog discussions have also addressed accessibility plans for other Twin Cities sports venues, including the new St. Paul Saints ballpark in St. Paul and the new Vikings stadium in Minneapolis.
Michael started with Rise's Creative Partnership South program in 2011 after graduating from Transition Plus and South High School in Minneapolis. His computer skills and strong work ethic were immediately apparent to Rise staff and Michael quickly became one of their best data entry clerks.
"His attention to detail, focus, and strive for perfection is what makes Michael so good," said DTH Director Melinda Dannley. "He has even helped staff develop quarterly reporting templates that have made their jobs so much easier; we all appreciate the good work he does."
Michael has also been featured on MPR radio's All Things Considered program in 2010 and was part of Gillette Children's Specialty Healthcare's Cure Pity campaign a year ago.
Michael has taken journalism classes at Minneapolis Community and Technical College and his blog is well-written and fun to read. You can find it at: gravessack.wordpress.com.
Or follow Michael and Sam on Facebook: www.facebook.com/ twomenon. This summer, they hit more than 70,000 views!
In addition to being a baseball fanatic, Michael plays forward with his soccer team, the Minnesota Northern Lights, through the Midwest Power Soccer Association. The team travelled to Fort Wayne, Ind., in July to compete in a national tournament.
This article appears in the September 2015 issue of the Rise Reporter.