MARY RICHARDS ADDRESSES MINNESOTA LEGISLATURE ON THE IMPORTANCE OF MA-EPD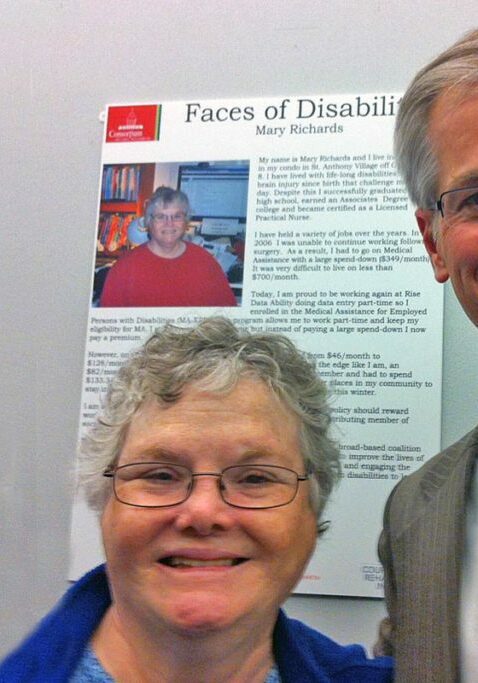 Posted on May 26, 2015
Working with the Minnesota Brain Injury Alliance and the Minnesota Consortium for Citizens with Disabilities, Mary Richards is proud that her advocating efforts to help repeal the Medical Assistance for Employed Persons with Disabilities (MA-EPD) premium increase have been successful!
In her testimony before the Minnesota State Legislature this spring, Mary told representatives: "I live independently in my condo in St. Anthony Village. I have lived with lifelong disabilities from a brain injury since birth that challenge me every day. My brain injury has caused learning disabilities, memory issues, depression, and balance issues. Despite this, I successfully graduated from high school, earned an associate's degree at college, and became certified as a licensed practical nurse.
"I have held a variety of jobs over the years. In 2006, I was unable to continue working following surgery. As a result, I had to go on Medical Assistance (MA) with a large spend-down ($349 per month).
"Today, I am proud to be working  again at Rise Data Ability doing data entry part-time so I enrolled in the MA-EPD. This program allows me to work part-time and keep my eligibility for MA.  I still have very little income, but instead of paying a large spend-down, I now pay a premium."
But Mary said she was shocked when her premium almost tripled to $128 a month. "When you are already living on the edge like I am, it makes a big difference."
She was also one of 26 people featured in a Faces of Disability exhibit which  hung outside Minnesota legislators' offices in St. Paul.
Mary is shown here with Sen. John Marty from District 66 who has kept her poster displayed. Her willingness to share her story was critical to helping legislators understand the impact of their public policies on people's lives.
"I am asking you to repeal this MA EPD premium increase," Mary told the legislators. "Our state policy should reward work. Like most people, I just want to be a responsible citizen and a contributing member of society."
This article appears in the June 2015 issue of the Rise Reporter.