KEVIN FRANK IS A 'ROCK STAR' AT BEST BUY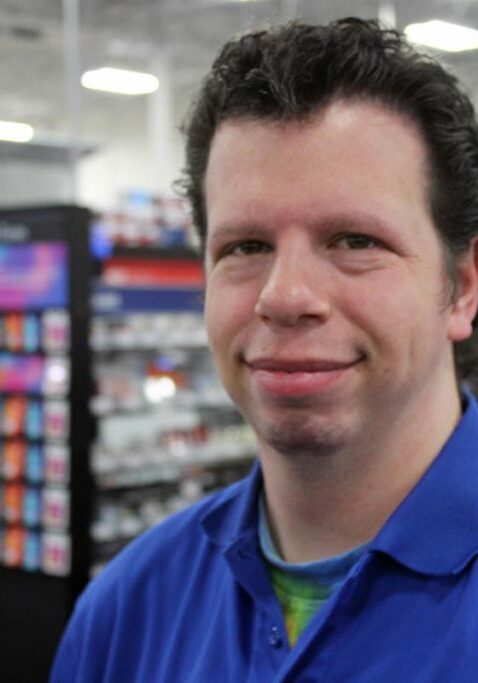 Posted on May 25, 2016
For the past eight years, Kevin Frank has been rising early to get to the Best Buy store in Blaine to help get the sales floor cleaned and ready before customers start arriving when the doors open at 10 a.m. He faces shelves and spruces up the expansive electronics store.
Once the store opens for business, Kevin also answers customers' questions or helps them locate the product they are looking for. Although admittedly a little shy, Kevin says he loves assisting customers and interacting with them.
"I really like my job – especially my co-workers who are fun to be around," said Kevin. "I think I do a great job."
The part-time job seems to be a perfect fit for Kevin. Additional follow-up job supports from Rise's Sue Featherly for the past six years have helped Kevin flourish and become an invaluable employee. Each day with a sense of excitement and pride, Kevin goes to work with a smile on his face.
"It's been exciting for me to see Kevin develop confidence and a sense of ownership in his job at Best Buy over the years," said Sue. "He is very proud of the work he does and it shows."
Manager Aren Dela says, "Kevin is a rock star and we are so lucky to have him as an employee."
His positive attitude and strong work ethic make a difference for Kevin's managers and co-workers. Managers support him in being an independent and confident worker who shows up ready to work every day.
Being connected and giving back to his community is also important to Kevin. In his spare time, he enjoys packing and boxing food for Feed My Starving Children. Volunteer work gives Kevin one more way to make a difference to his community.
Having started Cub Scouts as a young boy, Kevin was especially proud to earn his Eagle Scout rank through Troop #522 in 2006. He constructed and installed bat houses in Anoka County parks.
Kevin, who is 30, lives in his own house in Blaine with a roommate. He enjoys taking classes through Project POWER, especially karate, sports, and singing with Merry Music Makers.