JOE IS EXCITED TO BE BACK WORKING AFTER A TRAGIC ACCIDENT LEFT HIM WITH A BRAIN INJURY 9 YEARS AGO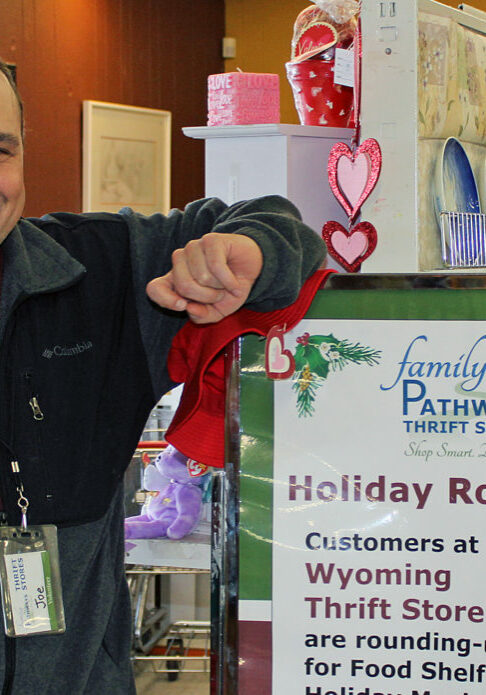 Posted on Feb 25, 2015
The Family Pathways Thrift Store in Wyoming is a busy place where customers know they will find plenty of great treasures at good prices. There, Joe Solomon can walk almost five miles in a four- or five-hour shift as he helps unloads delivery trucks and private donations, sorts and tags items, stocks the shelves, and assists customers on the retail floor.
Joe loves his job, especially after not having worked for almost nine years following a tragic accident at his construction job in his early 20s. Working to save for college, Joe suffered a traumatic brain injury, resulting in memory and mental health issues. A settlement from the accident helped him buy a home, but after years of not working, it went into foreclosure; Joe lost his home in 2012.
Joe was referred to Rise by his case manager at People, Inc. Monica Zachau, a housing support specialist in Rise's Employment Innovations office in Cambridge, assisted Joe and his wife find an apartment in Wyoming for their young family. Monica also helped him apply for one year of rental subsidies while she and Joe put a more permanent plan together.
"I thought Joe would really benefit from going back to work and I knew Jill Johnston could help him find just the right job so I kept encouraging Joe to meet with her," said Monica.
Jill, a Rise placement specialist, arranged for a three-week work evaluation through Minnesota Vocational Rehabilitation Services for Joe at the Thrift Store to help assess his work skills and interests. He excelled at the job and was well-liked by his co-workers.
"I have had other jobs before, but I really struggled," said Joe. "None of them worked out because people didn't understand about my memory issues and I didn't have good people like Jill and Monica to support me. Working with Rise has made all the difference for me."
A few weeks after his work evaluation ended, Joe ran into a manager from the Wyoming store at a grocery store. She asked if he had found a job yet and when she found out that Joe was still looking, she invited him to apply for a position. He started the next day and works 20 hours a week.
Joe says he loves the variety of job duties and has great co-workers.
"I am so excited to be working again after all those years. It feels so good to be productive and a part of society. I make sure I do the very best I can and I think my co-workers appreciate my work."
"What a transformation Joe's gone through since he started working – he's so much more outgoing and self-confident!" said Monica. "Now we're working on fulfilling Joe's dream of finding an affordable house to rent with a nice yard for his kids."
"Joe unfailingly comes to work with a smile on his face and a positive attitude," said Manager Corinna LaChapelle. "He is always willing to do whatever is needed for the day. As a committed team player, he steps in with a lending hand to help others achieve their goals for the day. Joe is a valued team player and we are grateful to have him as a part of our Family Pathways family."
"Jill and Monica have been so helpful to me and have supported me in many ways," Joe added. "I appreciate all the services Rise has to help me."
He continues to meet with Monica weekly and Jill a couple of times a month to help ensure things continue to go well and address issues as they may arise.
"Monica and I are certainly happy to support Joe, but he's the one doing all the hard work," said Jill. "We're proud of him and pleased things are working out so well for him."
Joe lives less than two miles from the Thrift Store. He and his wife have a young son and daughter. In his free time, Joe enjoys spending time with his family bowling, going to movies, and playing games.
This article appears in the March 2015 issue of the Rise Reporter.