GRETCHEN LEADS THE WAY AT ST. CLOUD HOSPITAL FOR OTHERS TO BE HIRED.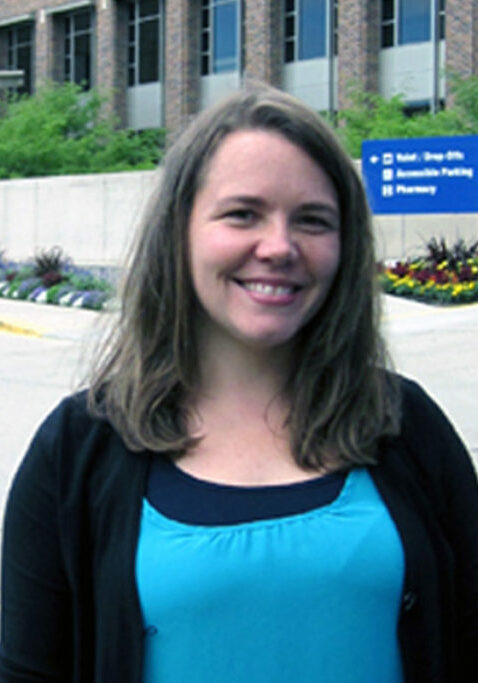 Posted on Dec 09, 2013
Rise and Minnesota Workforce Center staff partnered with the hospital management to implement relatively simple, low-cost accommodations
Despite her extensive education and impressive career in electronic publishing and graphic design, Gretchen DelFratte was laid off from her job at a daily newspaper due to downsizing in October 2010.
Making the tough decision to pursue a new career field, Gretchen went to the St. Cloud Workforce Center for assistance. Kathy Fischer, a career rehabilitation counselor with Minnesota Rehabilitation Services, helped her connect with the support services she would need to successfully re-enter the workforce.
Interested in the health care field, Gretchen was given the opportunity through Rehab services to take classes for medical coding and insurance terminology. Armed with continuing education credits from MRC (Minnesota Resource Center) Training and Education Center, Gretchen spent months looking for a job on her own with no luck.
In March 2012, Kathy referred Gretchen to Rise's Minnesota Employment Center (MEC) for Deaf and Hard of Hearing program. She began working with Ahavah Mebust for career planning, job placement, and occupational / communication support services. MEC is co-managed by Rise and Lifetrack Resources, Inc.
"I met with Ahavah every week and she was so helpful. We just kept looking and applying for jobs — even ones I didn't think I would be qualified for because you never know unless you try. Maybe one would be the right job for me."
And she did find a great job as a distributions clerk, filling medical supply orders as requested by medical staff at St. Cloud Hospital. It's a job that she really enjoys because of both the work itself and the support she's received from hospital management and co-workers. And after being unemployed for nearly two years, Gretchen, who has been deaf since birth, appreciates having a good job.
After first working in a float/on-call position, she was hired two months later in a permanent, part-time distribution clerk position. Never having had an employee who was deaf before, the staff at St. Cloud Hospital worked with Gretchen, Kathy, and Ahavah to see what kinds of communication accommodations they could make.
Gretchen uses lip reading and speech to communicate with non-deaf (hearing) people; this had been her main form of communication until age 17 when she began using American Sign Language (ASL) as her preferred form of communication.
Gretchen appreciated the fact that the hospital management took the initiative to make some communication and procedural changes which made it easier for Gretchen to learn and do her job.
Subsequently, these changes helped paved the way for two other new people who are deaf to be hired to work in other departments. Some of the accommodations the hospital made were relatively simple and ended up benefitting others as well.
For instance, although Gretchen had an ASL interpreter for orientation and safety training, it was still challenging. The hospital then captioned the video that all new employees are required to view.
The hospital is also working on ways to alert employees who are deaf when announcements are made over the public address system such as carrying beepers with text messaging capabilities. A couple of Gretchen's co-workers are learning basic ASL to help make communication between them easier.
"I had the privilege of partnering with the St. Cloud Hospital to provide education and resources for supervisors and employees," Kathy explained. "This helped pave the way for VRS to continue to work with Rise and St. Cloud Hospital for the needs of future employees."
"Gretchen has been a great addition to the Distribution Center," said Keith Gerding, Distribution/Document Services coordinator. "She is not afraid to ask questions or get help if needed. Her ability to quickly adapt and face challenges directly has been helpful during all of the various department moves at the hospital. Gretchen's interactions with co-workers are very positive and they enjoy working with her."
"I'm always going to have communication issues, but my co-workers are very nice and friendly and are happy to help," said Gretchen. "Everyone gets frustrated looking for a job, but I can tell you to never give up. I'm happy that my getting hired here at St. Cloud Hospital has made it a little easier for others with disabilities to get hired."
"I have really enjoyed working with Gretchen over almost two years," said Ahavah. "She has gracefully transitioned into a new career path while working with St. Cloud Hospital on reasonable job accommodations which helped pave the way for new deaf and hard of hearing employees. I'm very proud of and happy for her."
Gretchen and her husband Stephan, an apprentice electrician who is also deaf/ hard of hearing, live with their two daughters and son, ages 6 to 11, in St. Cloud. In their free time, they enjoy watching their children play sports, going on family outings, and outdoor activities such as walking, swimming and biking.