DIANE FOUND IT HARD TO GET HER FOOT IN THE DOOR WHEN JOB SEARCHING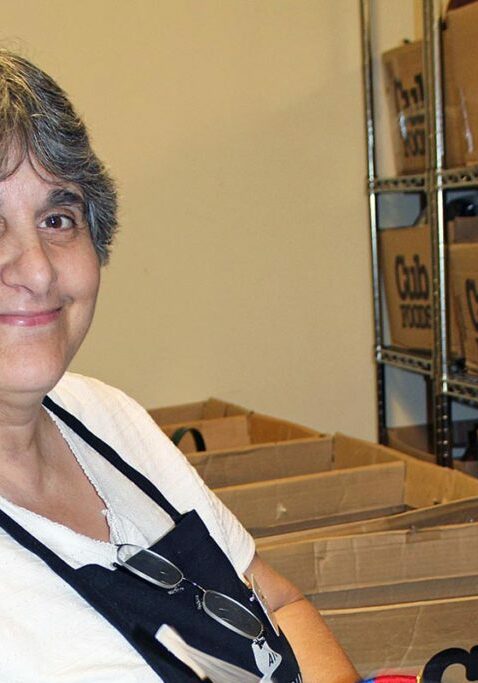 Posted on Dec 09, 2014
Arc's  Value Village in St. Paul is a bustling thrift store on White Bear Avenue where shoppers can find great deals on clothing, household items, and seasonal decorations. Last year, more than $2 million in sales went directly to support The Arc Greater Twin Cities' programs that help adults and children with disabilities in our community.
In the back room, where donated goods are prepared for the retail floor, you will find Diane Blashill hard at work sorting and price-tagging merchandise. A proud Value Village employee for more than five years, Diane has worked in a number of jobs, but prefers to work behind the scenes.
Diane came to Rise's Minnesota Employment Center (MEC) Program for People Who are Deaf and Hard of Hearing more than ten years ago for help finding a job. With support from a Rise occupational/communication specialist, Diane got a job at a rebate processing center in White Bear Lake where she worked for five years before it went out of business.
So Diane restarted her job search and found MEC's customized services, including career planning and mock job interviews, to be most helpful.
"It's really hard to find work when you are Deaf," Diane said. "When I found out I was hired at Value Village, I was so excited – I kept saying, 'Thank you, thank you!' Without help from Minnesota Vocational Rehabilitation Services or a program like MEC, it's really hard to get your foot in the door. I like this job at Value Village even better than my first job."
Diane is well-liked among her
co-workers and managers who communicate with her by writing notes and using some basic American Sign Language (ASL) signs and finger spelling they have learned. "They are very friendly and nice; we tease each other and have fun while we work."
Michelle Rimmer, an MEC occupational/communication specialist (OCS), follows up with Diane so that her work at Arc's Value Village continues to go well. Michelle often ASL interprets for Diane at staff training or presentations, helps with paperwork, or anything else that comes up on the job.
"Diane is instrumental in making sure our merchandise is stickered, tagged, priced, and categorized appropriately for stocking and sales purposes," said Value Village Store Manager Kris Wolfe. "We rely on her help each week to ensure we can meet the purchasing demands of our customers."
In her free time, Diane and her husband Bob are active with the Thompson Hall Deaf Club in St. Paul. They also enjoy camping and going for walks.
Fluent in ASL, an OCS helps educate consumers, employers and other members of the workforce about clear and effective communication. They promote independent, shared communications between consumers and their co-workers, employers, and service providers. An OCS also helps implement reasonable accommodation strategies and advocates for the rights and integrity of consumers and their hearing co-workers and employers.
For information on Rise's MEC program, contact Program Coordinator Blaine Newberg at bnewberg@rise.org.
This article appears in the December 2014 issue of the Rise Reporter.