DESTINY TAPS INTO EDUCATIONAL AND EMPLOYMENT RESOURCES TO REACH HER GOALS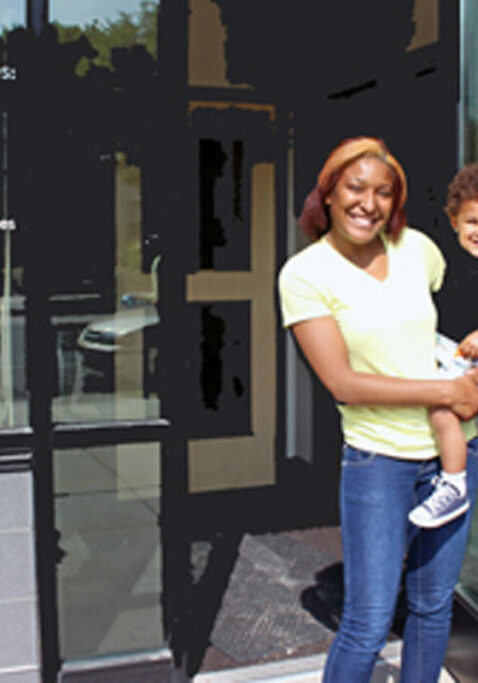 Posted on Aug 29, 2014
Juggling the demands of an almost-two-year-old and working full-time can be quite a challenge for a single mom. But Destiny Howard approaches both with a positive and joyful attitude.
Having worked in entry-level retail and food service jobs since she was 15 years old, Destiny always knew she wanted to build a promising career and make something more of her life. She graduated from Burnsville High School in 2010, set her sights on a career in health care, and looked forward to going to college.
As a new mother in December 2012 receiving MFIP (Minnesota Family Investment Program), Destiny had a one-year exemption during which she could continue to receive her welfare benefits and not work.
But instead of simply biding her time, this motivated, hard-charging 22-year-old young woman used the year to complete an eleven-month medical assistant course in March 2014 at Anthem College in St. Louis Park. When Destiny applied to Hennepin County for child care and other benefits, she was referred to Rise for career planning, job placement, and support services.
Veronica Ruiz, who then was serving a year as an AmeriCorps member with Rise's MFIP progam and is now a placement specialist, assisted Destiny with her career planning. In addition, Veronica helped Destiny qualify for interview clothes, child care, bus cards, work uniforms, and other employment-related resources.
Veronica also helped Destiny connect with the Gateway Program through Northpoint Health & Wellness Center to attend job clubs, develop a resume and cover letter, and practice job interviewing at Rise's Pathways office in South Minneapolis.
Destiny had two great internships at local medical centers, and then after almost two months of intensive job searching in this competitive field, was thrilled to be hired as a medical assistant in June at AdvaCare Clinics in Bloomington. The medical team there provides patients with a multifaceted, holistic approach to their therapy needs.
"I worked hard every day to find a good job," said Destiny. "I was either here at Rise or at the college's career center using every resource available to me. They were great stepping stones for me as I didn't want to stay on welfare."
Destiny's work day begins early; she leaves her home in North Minneapolis by bus to drop her son Kane off at day care in South Minneapolis, and then travels on to her job in Bloomington. She and Kane don't often get back home much before 8:30 p.m.
"I am so impressed with Destiny's drive and ambition to make a good life for her and Kane," said Veronica. "She is taking all the right steps and I know she will be successful at whatever she sets as a goal. I'm very proud of her."
"Don't get me wrong – it's hard – but so worth it," said Destiny candidly. "I keep going for Kane; I want to be a good role model for him. I am proving to myself that I can do this. I truly appreciate all Rise and Veronica have done to help me."
Destiny would someday like to be a physician's assistant and will attend Inver Hills Community College in the fall to earn an associate's degree in biology.
This article appears in the September 2014 issue of the Rise Reporter.