CUMMINS GRANT HELPS RELAUNCH KEN'S CAREER IN IT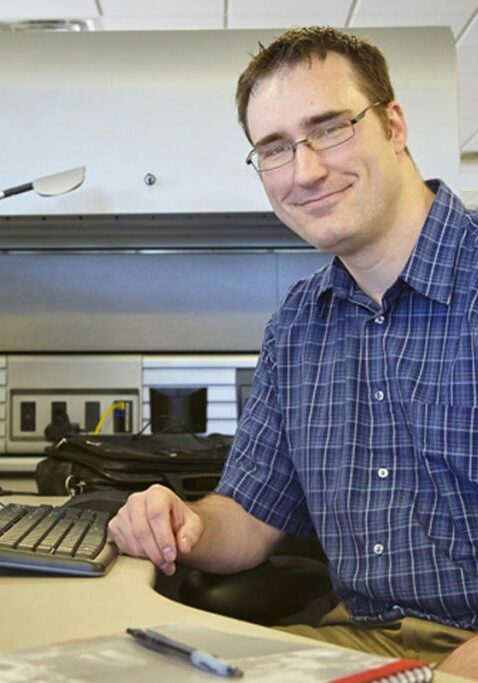 Posted on Aug 29, 2016
In the fast-paced, ever-changing world of IT (information technology), a few years can mean monumental advancements in systems, hardware, and software.
Having left the IT workforce for three years due to mental health issues, Ken Johnson found re-entering the workforce to be a real challenge. Romy Sundem, Ken's therapist at Family Life Mental Health Center, suggested he work with Rise for career planning and job placement supports.
"I was very discouraged," Ken said candidly. "I earned a Bachelor of Science degree in computer science from the University of Alberta (Canada) in 2002 and worked for 13 years as a software developer in Edmonton before moving back to Minnesota with my family. I had the education and the experience, so I could get the job interviews. But explaining my long employment break to potential employers was difficult and I wasn't getting any job offers."
Rise Employment Consultant Crystal Ray, who was working with Ken on his job search, came up with a new approach. She knew that managers at Cummins Power Generation were open to meeting with people from Rise who had unique skills, but were still having trouble finding a suitable job.
Rise Senior Marketing Representative Nancy Hoff meets on a regular basis with managers at Cummins Power Generation to brainstorm ideas on ways they can partner with Rise in a wide variety of ways – from employment opportunities to supporting special projects.
Crystal and Nancy thought Ken would be an ideal candidate and set up an informational interview with Ken Harnack, Jeremy Haug, and other Cummins IT managers. They were so impressed with him that they offered Ken a three-month grant to work as a consignment contractor on special IT projects this summer.
"Cummins has allowed me to have a 'safe' entry back into the workforce," said Ken. "I work as an IT project manager on a small team managing various IT projects. It is interesting work and the experience is awesome. I am upfront about any issues I might have and everyone has been very supportive. I feel they value my work."
Ken also credits the continued cooperation between Romy, Crystal, and his co-workers at Cummins who have all worked together to make this work experience happen.
"I was in a really difficult situation — but everyone involved wanted me to be successful," Ken noted. "It will be so good to have this on my resume; working at Cummins has also given me a tremendous boost in my self-confidence for when I continue my job search."
Ken and his wife Lisa have a busy household with 12-year-old twin sons, a 10-year-old son, plus 8- and 6-year-old daughters. Lisa is a stay-at-home mom and homeschools their children.
"This is just another great example of Rise's valued business partnership with Cummins," Nancy added.