COURTNEY FACES CHALLENGES HEAD ON, FOCUSES ON A GREAT FUTURE FOR HER FAMILY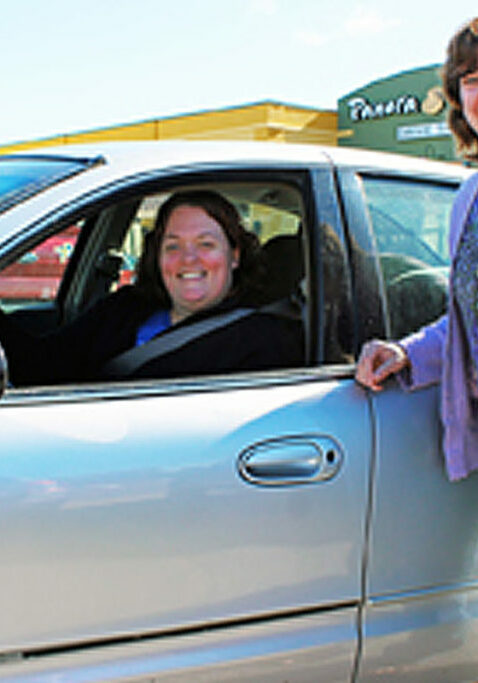 Posted on Jun 05, 2014
At times, her problems seemed almost insurmountable, but with tenacity and determination, this young mother of two small boys is moving forward with great success.
Just two years ago, Courtney Gapinski was unemployed and living in a St. Cloud-area homeless shelter with her children. Realizing her family needed professional assistance, Courtney went to Central Minnesota Mental Health Center for services. Counseling sessions and support were a big help for everyone.
A new job at Preferred Credit in St. Cloud enabled Courtney and her sons to move into their own apartment, but it stretched her budget much too tightly and was not located in a good neighborhood.
In February 2013, Courtney's mental health case manager referred her to Rise's Central Minnesota Works program in St. Cloud where she began meeting twice a month with Lea Engnell, a mental health and housing support specialist.
Together, Courtney and Lea addressed her challenging issues. She had lost her driver's license and didn't have a car so it took her more than two hours in the morning and evening using public transportation to make the loop between home, her children's day care, and work. It was exhausting and stressful for everyone, and left little family time.
Courtney and Lea were able to find more affordable housing in a better neighborhood closer to work. They also worked on getting her driver's license reinstated.
One of Courtney's biggest recent accomplishments was budgeting for a car. "After not having my own for two years, buying a car in March has transformed our lives!" she said. "Our morning and evening commutes have been cut to an hour, giving us so much more time for family activities, and relieving a lot of stress."
Courtney and Lea continue to work together on budget issues so she can repair her credit record and repay student loans.
"It's been an especially tough year with my son, who is now 8 years old, having been in and out of the hospital," Courtney added. "But despite all the ups and downs, I have managed to keep moving forward. Lea is good about giving me the push I need sometimes and that's very helpful."
Courtney has enjoyed her current job for two years and recently received a promotion to performance management associate. She has also worked in health care and hopes to someday return to school to get a degree in criminal justice, perhaps working with troubled juveniles.
"I think Courtney is one of the most resilient women I have met in a long time," said Lea. "Despite many difficult situations, she is strong and knows what she wants; I admire her tenacity. We all need support at different times in our lives and I'm happy to help Courtney explore all the options. She has her hands full, but she's doing a great job juggling it all."
"There have been times when I wanted to give up because there was so much to deal with," Courtney admitted. "But it's so nice to have someone who's in my corner to talk things over with. Lea challenges me, but she also tells me I'm doing a good job and I need to hear that. And we continue to set goals for the future."
For information about Rise's mental health and housing support services in Central Minnesota, call Amy Carter at 320-656-5608.