CORY PUTS HIS GREAT PEOPLE SKILLS TO WORK AT COBORN'S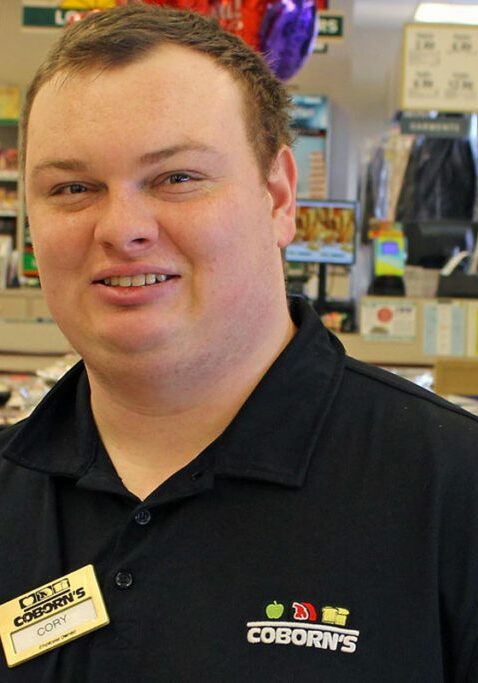 Posted on May 08, 2017
Cory Frank's career exploration started seven years ago when he attended a vocational skills training program at Ridgewater College in Willmar for people with disabilities. The program helped Cory hone his job skills to secure a competitive job.
During the program, he had the opportunity to experience different kinds of work, including vacuuming cars at an oil change shop and stocking shelves in the cold area at a local supermarket. After he completed the training program, he washed dishes at a local restaurant and collected shopping carts at a retail store. Cory's variety of jobs helped him define what he really enjoyed doing.
"I really like working with people and being a part of the action," Cory said.
He began working with Sue Featherly, an employment specialist at Rise. Sue worked meticulously with Cory on each of his job applications. She also accompanied Cory on all his interviews. Sue's support helped Cory find the right type of job where he could let his people skills shine.
He was hired by Coborn's as a customer service associate in September of 2016. Cory greets every customer with a smile and talks with each one while bagging their groceries.
His manager Michelle says, "Cory is a great asset to Coborn's and we really enjoy having him on our team."
Each time, Cory goes to work, he feels a sense of purpose and accomplishment. He is proud of his success and his family is equally proud. He said he plans to be a loyal Coborn's employee for many years to come. "I really want to stay at Coborn's."
When Cory is not working, he loves playing hockey, golfing, fishing, and snowmobiling. He laces up his ice skates and jumps on to the ice rink to join his team in the Minnesota Special Hockey League.
Once the snow melts and the temperature warms up, Cory takes out his golf clubs and plays on the Special Olympics Golf Team. The one thing he really enjoys is mentoring younger athletes and encouraging them even when things get difficult.
Volunteering is a also big part of Cory's life. He packs food boxes with other members of his group home for Feed My Starving Children. At a nursing home, he visits with residents and helps run the movie nights. Recently, Cory and his girlfriend have been making tie blankets to give to various organizations.
This article appears in the June 2017 issue of the Rise Reporter.