BRIAN CELEBRATES HIS SILVER ANNIVERSARY AT GLS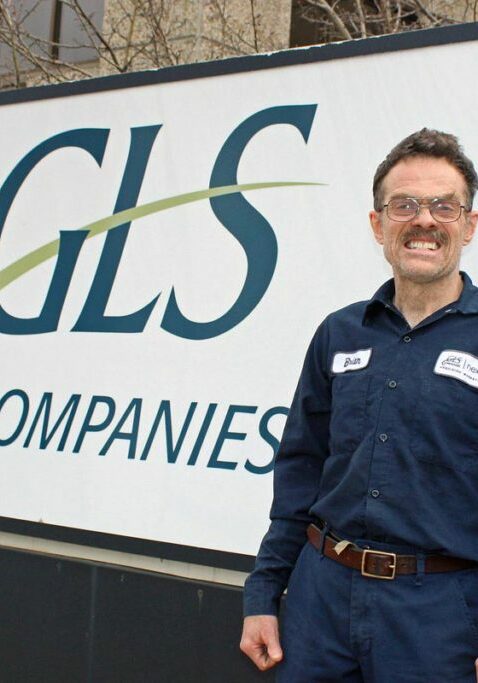 Posted on May 17, 2017
In today's workforce, it's rare to find someone who reaches his or her 25th anniversary with one company. But when you love your work, are really good at it, and have great co-workers, the years on the job seem to fly by.
Brian Walsh celebrated his 25th year working at GLS Companies, a full-service marketing and printing company in Brooklyn Park, on February 18. Over the years, Brian has seen a lot of changes as the company grew and expanded, but one thing always remained the same: GLS is a great place to work!
Brian is a member with GLS's maintenance team and does a wide range of work, including collecting and separating materials throughout their massive plants for recycling and then loading into trailers; he also collects and disposes of the plant's waste materials. His many tasks keep him on the move from 9 a.m. to 3 p.m., and if he runs out of his own work, he offers help to his co-workers.
"I am proud of the work I do and I like that I'm so busy," said Brian, who is 57. "The people here are the best part of my job."
"Brian is our 'goodwill ambassador,'" said Nancy Kunkel, GLS's director of Human Resources. "He knows everyone here and does a great job connecting with people. Brian even spoke at a co-worker's funeral a few years ago; people were really moved by his comments."
Brian came to Rise for vocational employment services following his graduation from Cavanaugh School. Always a reliable and conscientious worker, he excelled working in Rise's busy warehouse as well as some jobs in area businesses.
With customized career planning and job placement services from Rise, Brian landed a job at GLS. Right from the beginning, he knew it was a company where he would be happy working for a long time.
Rise provided follow-up services for a few years, but since his GLS co-workers naturally supported him so well, Rise eventually faded its services.
After a year on the job, Brian began working with James Blake, GLS's new shipping coordinator. "We seemed to hit it off right away," James remembers, "even though Brian thought he could teach me the ropes and boss me around because he had been here MUCH longer! He's got a fun sense of humor; we enjoy teasing and playing practical jokes on each other. Unfortunately for me, April Fool's Day is Brian's favorite holiday!"
Brian lives in a group home in Brooklyn Center and takes Metro Mobility to work each day. He is a huge Minnesota Vikings and Twins fan. Over the years, James and his daughter have taken Brian to several Twins games as well as other GLS-sponsored events.
In his free time, Brian also enjoys swimming, playing softball, going to camp, and hanging out with his many friends and family.
"Most days, I think I never want to retire," said Brian. "But I suppose someday I will."
This article appears in the June 2017 issue of the Rise Reporter.