ARMHS HELPS PEOPLE IDENTIFY AND CONNECT WITH COMMUNITY RESOURCES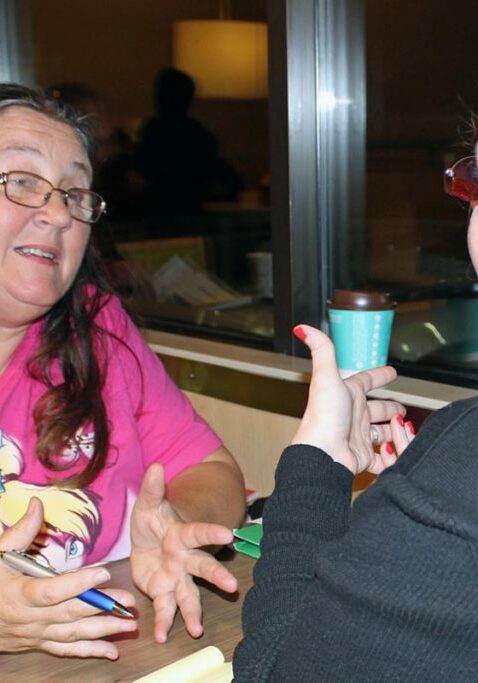 Posted on Dec 09, 2015
Despite the cold November rain falling, it was going to prove to be a great night for Connie Cheeney when she met with Rise's Mental Health & Housing Practitioner Holly Brabeck at a local McDonald's. She would proudly pay off her fourth bill in its entirety as well as find out that she will receive money from Rise's Advancing Lives Fund to make some major repairs on her car.
Connie has relied on a kind co-worker for a ride to work these past several weeks, so with support and guidance from Holly, she has been exploring economical places to have major car work done. She was excited to discover the Lift Garage in South Minneapolis, a nonprofit which provides car repairs for people with low incomes.
Since learning about Rise's ARMHS (Adult Rehabilitative Mental Health Services) from a neighbor about a year ago, Connie and Holly have been meeting a few times a month to address issues which may impede her independent living and connect her with other community resources for assistance. They focus much of their time together on budgeting and financial concerns.
"I'm learning to stop second-guessing myself and trust my own judgment because I can make good decisions," said Connie.
The mother of three grown daughters and six grandchildren, ranging in age from 5 to 19, Connie works as a paraprofessional transportation aide for kids with special needs. After being out of work for two years, Connie is especially appreciative of having a job she enjoys so much.
"Having hearing and speech impairments, I've had a lot of the same issues as these kids and can really identify with them," said Connie. "I take the time to build a rapport with them so they know I understand them and they can trust me."
As hard as she works, Connie often struggles to make ends meet. She acknowledges that having gone through several major changes in her life in a short period of time sometimes causes her to experience anxiety and periods of being overwhelmed.
"Holly is so supportive and gives me the positive feedback and validation that I need to get through some of these issues," Connie noted. "She's helping me go from always being a care-taker to really taking care of myself. If I get down on myself, Holly points out my accomplishments and I realize how far I've come in the past year in setting healthy boundaries and being more assertive."
"Connie is an inspiration to me in that she is so motivated to face her challenges head on and works hard to find the answers she needs to make a change," said Holly. "She is not afraid to seek out additional resources and support, and I'm happy to assist her how and when she needs me."
For more information about Rise's ARMHS, call 763-786-8334.