AFTER OWNING HER OWN BUSINESS IN RUSSIA, NADIA PUTS SKILLS AND TALENTS TO WORK AT AIRTEX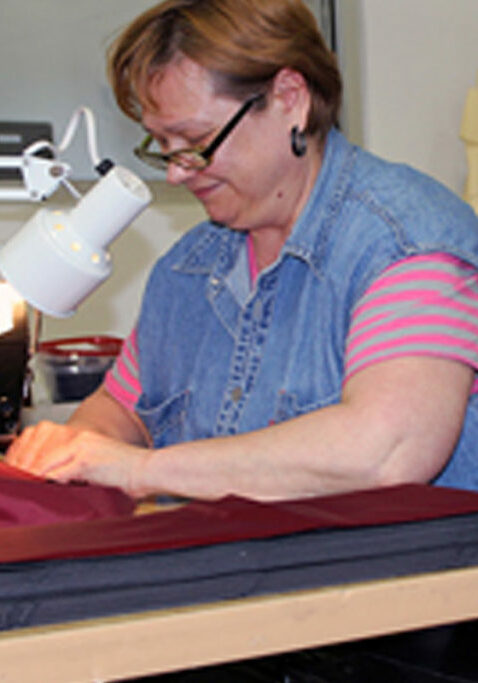 Posted on Jun 05, 2014
When Nadia and her husband Leonid moved from Russia to Texas about five years ago to be closer to their only daughter, they knew they would face many challenges making a new life in the United States.
Although they both had marketable skills, they had trouble finding employment as they are deaf and neither understood English. Nadia's daughter, son-in-law, and friends taught them American Sign Language (ASL).
The couple moved to Minnesota in 2011, because there were more Russian people and culture here. Her first job was cleaning her pastor's home. She and her husband also found work cleaning apartments, but that didn't prove to be a good fit.
Eager to find a better job, Nadia went to the Minnesota Workforce Center. They referred her to the Minnesota Employment Center (MEC) for People Who are Deaf and Hard of Hearing program which Rise co-manages with Lifetrack in St. Paul. She and Career Planning Specialist Mary Jo Duncan worked together to tailor her job search to find something suitable to her interests and skills.
Nadia went to work with a local retailer, tagging and preparing merchandise on the sales floor. She enjoyed the job, but it wasn't full-time work, didn't pay benefits, and was a long bus ride from home.
So Mary Jo and Nadia continued searching. A talented seamstress, Nadia had owned her own business in Russia for 35 years doing designing and sewing wedding dresses and other clothing. In May 2013, Mary Jo found a job lead for a sewing position at Airtex Design in Northeast Minneapolis. Airtex was so impressed with the results of her sewing test that they hired her on the spot.
Through an ASL interpreter, Nadia indicated that she enjoys her challenging work at Airtex very much, especially the variety of high-end products she works on. Located in Northeast Minneapolis, Airtex Design Group designs a wide range of cutting-edge and innovative home fashions, luggage, clothing, and other unique products.
"Nadia is a very dedicated, reliable employee, and is a joy to have around," said her supervisor, Production Manager Lorna Kalibatas. "We value her attention to detail and her quality of work."
But the best part of her job, Nadia said, is the friendly people. She is teaching some of them some ASL so they can communicate better.
Mary Jo meets with Nadia twice a month to assist her with interpreting and communication issues, filling out paperwork as Nadia doesn't read English, and helping with other things that may pop up.
Nadia signed that she appreciates the full support she gets from Mary Jo. "She is wonderful and when I was frustrated, she helped me so much. It was hard at first, but I had to be patient and keep trying to find a good job; I'm very happy here."
Using her SmartPhone, Nadia often relies on signingsavy.com and an English-to-Russian translation app to ease communication challenges.
Nadia said she is proud she and her husband have made it on their own without support from the American government. "We have worked and worked to make a good life here. I say 'thank you' to everyone."
"Nadia's persistence certainly has paid off," said Mary Jo. "She deserves all of her success and I am very proud of her."
Leonid works as a carpenter for a home remodeling company. They have been married for 34 years and enjoy spending time with friends at Deaf Life Church in St. Paul. They also love to travel to Kentucky to visit herdaughter's family, including three grandchildren ages three to seven.