Story 5 – Katie Whiteford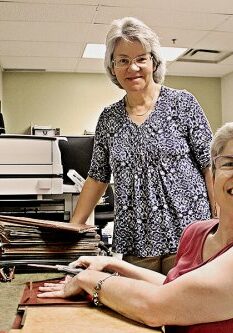 Rise Direct Support Professional (DSP) Katie Whiteford spends her days assisting people she supports due to their intellectual and physical challenges.
For more than 20 years, she has brought an innovative, compassionate and person-centered approach as she supports a team of workers at Spring Lake Park, focusing on skill-building, training and supporting people working to reach their goals, pursue independence and greater community integration.
"I work very closely with the people I support daily. It might be support with their technology, a work task, or even personal cares," Whiteford says. "My favorite memories are reoccurring. They're when my persons-served have succeeded. Some examples might be accomplishing a work task or triumphing over a personal challenge like chemotherapy."
Whiteford's team members use customized computer devices to assist them, allowing them to accomplish their work which wouldn't be possible without support. Throughout her time at Rise, Whiteford has become known as more than someone who is engaged with those she serves. She is their advocate.
"Rise is unique in that I feel respected and well-supported in everything I do. My position as a DSP has been unique in that I don't want to change positions. I want to stay a DSP because of the interaction with people served," she said. "I like what I do! I'm happy every day when I go home, I'm happy so I'm not going to change that!"