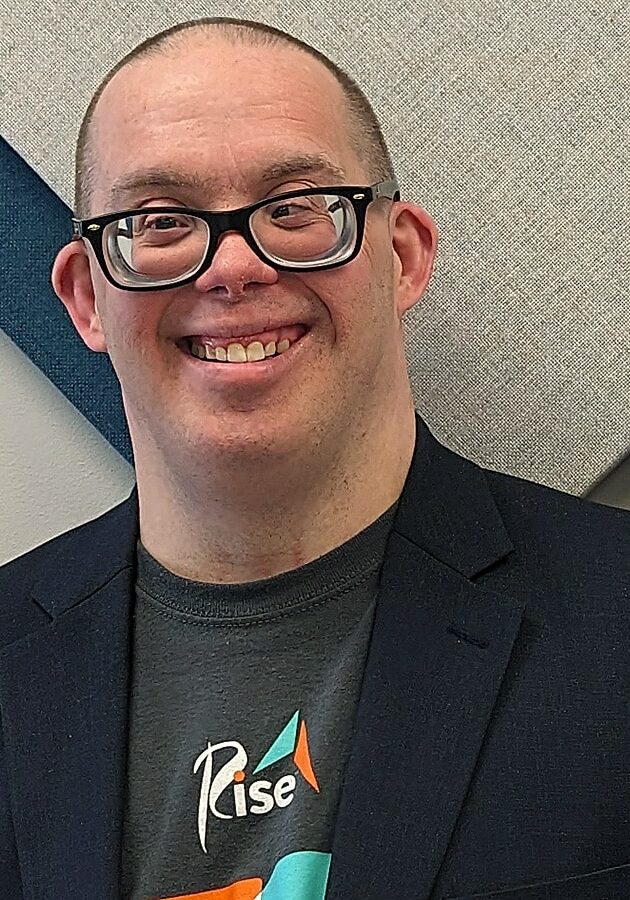 Jason Paddock has been receiving services from Rise Washington County (formerly ESR) since 2002. Over the years, he has worked at six different community group employment sites, with duties ranging from cleaning racetracks at Running Aces, to sweeping parking lots at a city park, to his current job cleaning and stocking the kitchen and bar at Stacy Sports Bar and Grill in Stacy, MN. Regardless of the job to be done, Jason's dedication and care for his work and his team members remains constant.
When asked to pick a favorite of his employment endeavors, Jason named "Music Connection" without missing a beat. There, he had lots of options for which duties he got to carry out during his shift, and he often got to interact with the owner of the store. Tracy Jochim, program supervisor, shares that there were times when Jason worked multiple community jobs during the day before returning to ESR to do in-house cleaning work.
During some of the most difficult days of the COVID-19 pandemic, Jason struggled with being stuck in his bedroom, away from his work, his friends, his community, and even the other residents at his group home. That's where Rise's remote services came in, allowing Jason to maintain a virtual connection to his staff members and friends at Rise, even during those lonely days. "As soon as we could get people back in the building, he was eager to be here," Tracy shares. "He's a people person and a hard worker."
Incredibly involved in his community, Jason often takes up volunteer work and attends life enrichment services at Rise after his workday is done. Jason is also an avid dancer, attending weekly dances and events at locations like Our Dance Place and the local Legion and VFW halls. You can even spot Jason showing off his dance skills in Rise's first TikTok video!