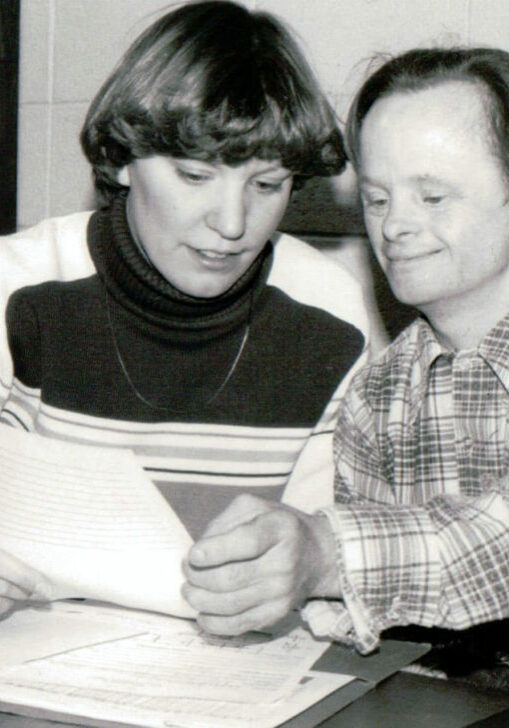 Lynn Noren joined Rise in 1979 as an intern who wanted to support people living with disabilities and other challenges as they sought out new opportunities for personal and professional growth. She came during a time of innovation and Rise was at the forefront.
"There weren't programs like Rise. So, the best part and the luckiest part for me is that I got to be a part of growing and developing that without even thinking about it," she said. "We were trying new things all the time and what we learned changed all the time."
As President and CEO since 2013, Noren has continued to push Rise forward in new ways, including new, adapted and growing programs to fit people's support needs. Noren was at the center of the 2018 merger between Rise and ESR, which expanded services to people in the east Metro and western Wisconsin. And under her leadership, Rise has navigated through the COVID-19 pandemic, which has been one of the most challenging times in our history.
Rise was formed when community members worked together to fill a need. We exist today thanks to that collaborative foundation which has attracted so many hard-working board members, volunteers, and community and government leaders who believe in our mission.
"We have wonderful relationships with funders, policy makers and business leaders. It's the trust on both sides that has allowed us to try new things. Businesses have needs. We're very respectful of that when trying to figure out how to meet their business needs and have them support Rise and the people we serve in the most imaginative ways possible."
In addition to promoting a culture that celebrates innovation which allows us to provide cutting-edge support services, Noren says a great joy of her job is watching the people we serve make significant accomplishments because of the support they receive.
"Seeing their accomplishments and having relationships with team members and the families we support is quite remarkable, she said. "I hope we continue to push boundaries of what's possible for people and that we continue to learn along the way from people about what they need and how we can be their champions and support them."
If you've ever had a conversation with her, it's no surprise that Noren says she's "lucky" to come to work each day. What is her plan for Rise's future? More innovation and plenty of support are a given, but on a new level with a bigger mission.
"My hope for Rise in the next 50 years is that we are just blown away by what people we support have accomplished. I hope everything looks totally different and that our support is to teach the community to be more inclusive and support people with disabilities and we take it a step further. I hope we continue to be scrappy and push the boundaries of what's possible for people."