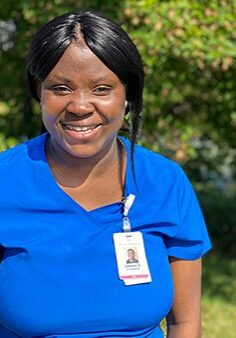 Juliana Korkor has happily spent more of her time working these past few months. Juliana recently took on a new housekeeping position at a Woodbury senior living community. Obtaining this full-time position is a personal and professional milestone in Juliana's journey.
She came to Woodbury from Ghana with family in 2016, determined to build a new life in this new country. A non-native English speaker, she worked hard to overcome that barrier, improving her English language skills to find work to help support her family.
Over the past four years working with Rise, Juliana has proven herself as a loyal and trusted employee. She has been a dishwasher, kitchen helper, personal shopper and more. Managers have noticed her strong work ethic too, often promoting her to new positions and locations. With the assistance of Rise Employment Consultant Jenn Johnson, Juliana was hired into a full-time position four months ago.
"Rise has been a big help to me. I don't know what I would do without Rise," Juliana said.
Johnson has supported her through job training, paperwork and applications assistance and has also worked through communication challenges.
A bonus of her new job is that she goes to work each day with her mother, Florence, who works in a different department. And now that she has full-time work, Juliana can concentrate more on her personal goals, which include obtaining her GED and driver's license.
Juliana's Rise journey happened because of a 2017 adult mental health grant that allowed Rise to expand career planning, placement and follow-up support services in Washington County. But her personal achievements are due to her own drive to be successful, and a close connection to her extended family, also living with her in Woodbury, who have provided continued support and encouragement.
Outside of work, Juliana enjoys spending time with family. She is also active in her church.
This is an update to an earlier feature on Juliana Korkor. Learn more about her early time with Rise.