Juliana proud to be earning her way in America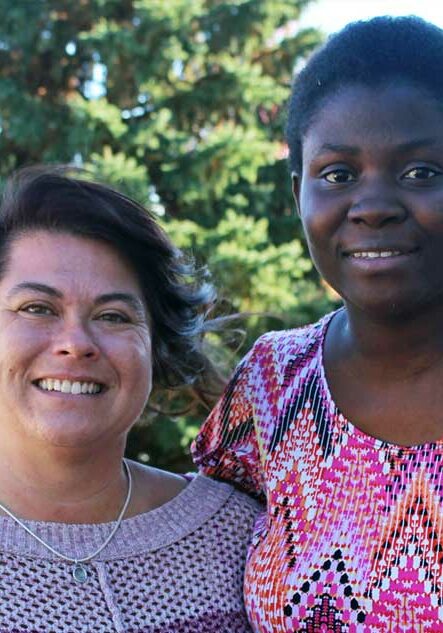 When Juliana Korkor moved from Ghana to the United States with her extended family in May 2016, she was determined to make a good life for herself in this new country. Despite having only an eighth-grade education and never having worked before, Juliana, who is 24, was motivated to improve her English speaking skills and get a job to help support her family who had settled in Woodbury.
Through a new Adult Mental Health Grant, Rise expanded its career planning, job placement, and follow-up support services in Washington County on the eastern side of the Twin Cities metro area in early 2017.
When Juliana applied for services, her county case manager referred her to Sarah Kohl-Leaf, a Rise placement specialist who works out of two county community services offices in Stillwater and Cottage Grove.
"Juliana was eager to work and open to any kind of a job," Sarah remembers. "Transportation was a major challenge so we needed to find employment within walking distance of her house. We found the perfect position for Juliana at Jerry's Foods."
A busy, bustling place, Jerry's Foods features a bakery, deli, meat counter, grocery store, and meeting spaces all in one great Woodbury location. When Sarah initially approached managers, Juliana was admittedly shy and had limited English skills so she assisted the young woman with filling out the job application, as well as accompanying her to the interview and orientation once she was hired.
"Jerry's managers were warm and understanding, and willing to give Juliana a chance," said Sarah. "It's proven to be a perfect fit."
Juliana works part-time in the deli washing dishes, cleaning, and stocking dining supplies. Sarah continues to meet with Juliana a few times a month to help with any work-related issues.
"She's a good, good help to me," said Juliana of Sarah. "If I have a problem or don't understand, she helps me. I like working at Jerry's – it's a big place, but very nice. I like how they talk to me and understand me. They are really, really nice people and I like them."
In addition to assistance from Sarah, Juliana's team of Washington County therapy and support professionals provide ongoing follow-up services to help ensure that she continues to do well and prosper in her new country.
When she first arrived in the Twin Cities, Juliana attended Harmony Learning Center, a nontraditional school offering special education services. She greatly improved her English language skills (she also speaks French and her native tongue, Twi) and expanded her education. But transportation from Woodbury to Maplewood was challenging so she no longer attends. Juliana hopes to someday complete her GED (General Education Diploma or Degree).
The close-knit family of eight live in a comfortable, joy-filled home. Juliana is proud to note that all the adults work, including her mom Florence Asmoah, sister-in-law, and brother Alex Asmoah. Her niece and nephews, 11-year-old twins Andrew and Audrey, and 10-year-old Aaron, are doing great in public school.
Juliana's little son Joshua still lives in Ghana. He turns five in December and she is proud to earn money to send back so Joshua can attend school.
Juliana's family enjoys spending time together and is active in the International Christian Faith Center in Vadnais Heights where people from many nations attend.