Sheila Morales enjoys fast-pace job at MSP Terminal 1's Caribou Coffee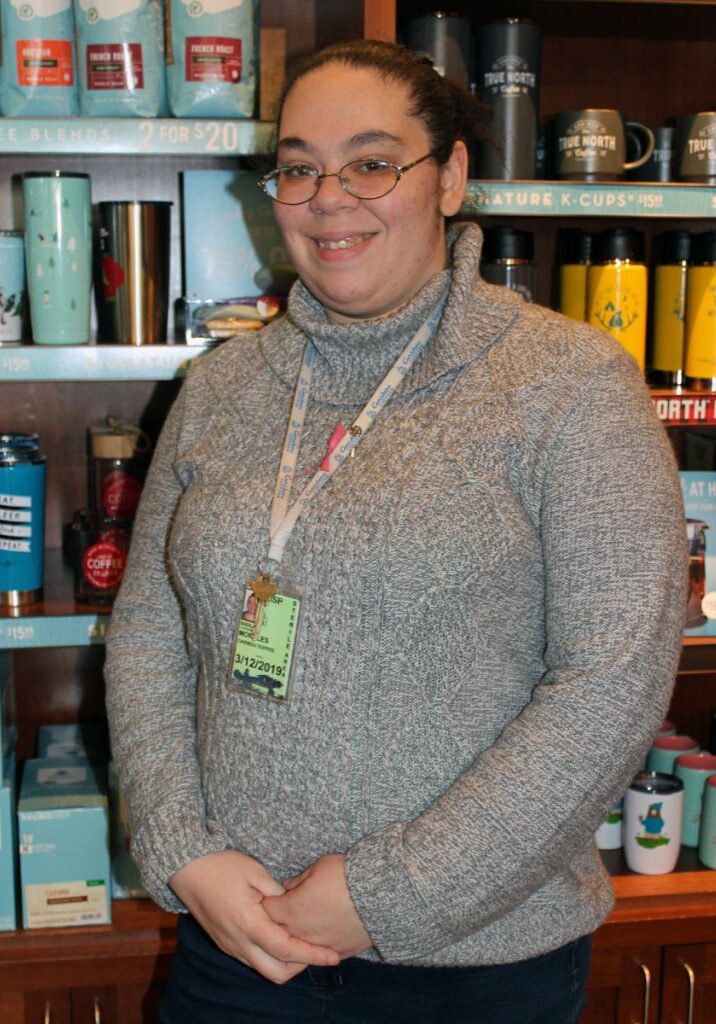 Although people moving through Terminal 1 at the Minneapolis-St. Paul Airport are often on their way to a fun (and at this time of year, WARM!) destination, there can still be a lot of stress in traveling. Sheila Morales and her teammates at the Caribou Coffee shop do their very best to greet each customer in a warm, friendly way, liven up their day, and brew something special for them.
A spunky and outgoing young woman, Sheila says the busy, hard work at one of the top performing Caribou locations in the country "gets me energized."
In her first month on the job, a 'secret shopper' scored her work performance as "perfect." Her manager started talking to Sheila about becoming a manager herself.
"At first, I thought she was kidding or just being nice – and then I realized she was serious!" Sheila remembers. Within four months on the job, she was promoted to shift leader.
"We all get along and really support each other on the job," she said. "The airport is a busy, boisterous place to work – it can either get you in a good mood or give you a headache! But either way, we have fun working together. We don't have much turnover so it's nice to get to know people so well."
Sheila and her husband of five years, Chris, are originally from Philadelphia, but moved to Minneapolis to be closer to his family. She had earned training certifications and worked in both the medical assistance and hospitality fields.
Following some challenging, difficult times, including having unstable housing, Sheila has worked hard to stabilize her life. She was open to any kind of work when she was referred to Rise's Pathways to Success program, which is funded by a special grant from Hennepin County, for career planning and job placement services.
Employment Consultant Rowan Radcliffe first met with her in June 2018 and by August, she was hired at Caribou as a barista. Coincidently, Rowan had worked as a Caribou barista several years ago, too, and really enjoyed the work.
Sheila admits she never even drank coffee until went to work for Caribou, one of the country's most popular coffee companies. But with such great choices, she has expanded her palate; though, on a cold Minnesota afternoon she enjoys a hot chocolate with caramel steamed in topped with whipped cream.
"Chris and I would go to Caribou Coffee every week, but I never dreamed I'd be supervising one some day," Sheila noted.
"I am very grateful for Rowan's help in dealing with work issues and the support and guidance she gives me — she's been crucial to my success. Without her, I know I would still be trying to figure things out. She's like my cheerleader in the background. She pushed me where and when I know I needed to be pushed."
"Sheila has met adversity with hard-won resiliency and now has a serenity and gusto that has led to her success," said Rowan. "Sheila is not only is managing others, but feels at ease and is confident in her ability to provide for herself. She is not afraid to become independent from her supported housing grant. At this point Sheila is ready for anything; someone could come in singing opera and juggling fireballs,and Sheila would take their order with a smile not missing a beat!"
During the federal government shutdown in January, Sheila was touched by the kind generosity of the many people who purchased Caribou Coffee gift cards to give to TSA employees who were working, without a paycheck. "People have such big hearts," she noted.
In her free time, Sheila enjoys reading some of the close to 6,000 electronic and hardcover books she has, listening to a wide array of music genres, and having Chris, who is a chef, cook her favorite chicken, mushroom, and rice dish.
This article appears in the March 2019 issue of the Rise Reporter