Ronnie is known for doing quality work at New Plastics Plus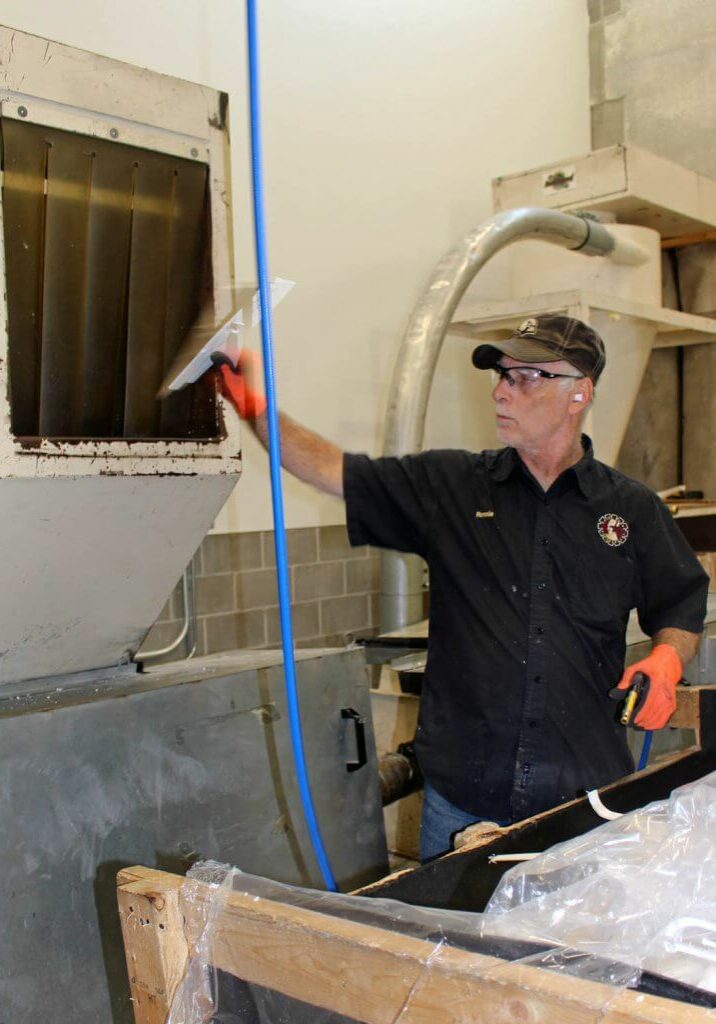 Keeping a steady,  even pace, Ronnie Watson feeds large pieces of plastic trim from production jobs into a massive grinder which pulverizes them into tiny pellets for recycling. His co-workers bring him gaylords a day and Ronnie seems to thrive on staying busy and meeting their production needs.
New Plastic Plus, Inc. is a custom plastic thermoforming manufacturer to a wide range of industries, including transportation, agriculture, recreation, and medical companies.
Their new building in St. Michael is spacious, bright and clean, and filled with high-tech equipment producing parts for Fortune 500 companies throughout the country.
After working at other community work sites with teams from Rise Coon Rapids, Ronnie was recommended for this position at New Plastics Plus and was hired in February 2019.
The company was looking for someone who would be diligent in ensuring that the recyclable plastic was first cleaned 100 percent (pure of contaminates) with an air hose before being placed into the grinder.
"Since Ronnie has started, New Plastics has not had a single gaylord sent back due to contamination," noted Rise Employment Consultant Jennifer Bracht. She checks in with him twice a month to help ensure all continues to go well on the job.
"His co-workers and managers always have wonderful things to say about what a great job he is doing," she added.
Ronnie is enthusiastic about his important job. "I like to stay busy – and I am really busy here. I have great co-workers and get along good with them. I plan to stay here a really long time."
As New Plastics Plus employees settle into their beautiful new building, new equipment is also being added to their manufacturing processes. Senior Accountant Bruce Rabago indicated that Ronnie would be soon working on a new grinder. "We want to make sure he is taken care of, too, and that he has a comfortable, safe work station."
Bruce said he continues to keep an eye out for other kinds of job tasks for which people from Rise might be well-suited.
"Ronnie is a very valuable employee here at New Plastics Plus," said Production Manager Michelle Raph. "His positive attitude, friendliness, and passion to do a good job make him a pleasure to work with. Ronnie has become not just a part of the team, but part of the NPP family."
Ronnie lives in an apartment in Columbia Heights, and in his free time, enjoys watching movies and listening to CDs.
This article appears in the December 2019 issue of the Rise Reporter.