Roger's a valued employee at Kohl's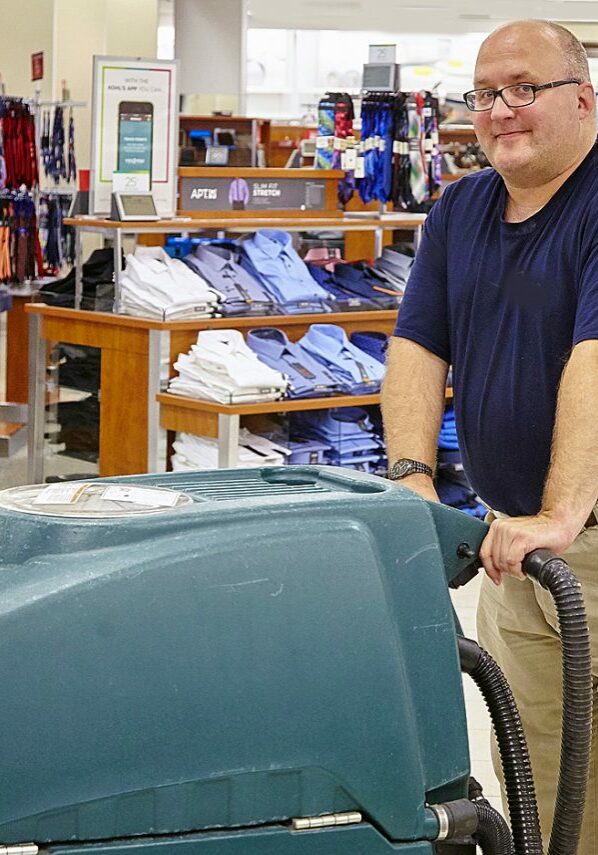 Roger Samsa grew up in the small town of Oconto, Wisconsin, and moved to Cambridge in north central Minnesota in 2013 to be closer to his siblings. After three years of living with his brother, Roger was eager to move out on his own as well as enter the workforce. He quickly checked "independence" off his list after moving into an apartment.
Unfortunately, Roger's new living situation didn't last long as his landlord wasn't keeping his building up to code, and consequently, Roger was forced to move out of his first independent home.
Roger's sister Mary, a pastor in Cambridge, offered Roger a place to stay. Roger knew, however, that he wouldn't be fully satisfied until he found employment and was able to pay her rent. Based on people's advice, Mary and Roger decided to check out Rise. The two stopped into Rise's Cambridge office and met Placement Specialist Jill Johnston. With Jill's assistance, Roger was hired by a custodial company contracted by the Kohl's department store in Cambridge. Although Roger was technically employed by the custodial company and not Kohl's, Roger's presence at the store lasted longer than his employer's did!
How does that work?! Answer: Exceptional work by an exceptional employee.
"Roger is truly a model employee and a very, very important part of the Kohl's community," said Cameron Hals, senior area manager for Diversified Maintenance Systems, LLC, who has been Roger's supervisor for three years.
At the same time that Kohl's was changing custodial services, Cameron also made a career move to Diversified.
Due to his invaluable work ethic, willingness to help others, and reliability, Cameron wanted Roger to make the switch to his new team just as much as Kohl's wanted to keep Roger in their store. In fact,
Kohl's told Roger that he could make his own schedule, selecting the days and hours he wanted to work.
"Roger is a smiley, cheerful guy with the ability to affect others around him with it," Cameron said. "I honestly wish I could clone him for some of my other sites."
Roger was flattered yet humbled by everyone's desires for him to stay. During this four-month transition to the new company, Roger was the only custodian and worked eight- to nine-hour days, five days a week — a schedule that was usually spilt between four employees. On top of his extra hours, he also trained in new employees.
But Roger loved his job and was willing to put in the extra hours. Even when Diversifed's contract officially began and Kohl's was back to having four custodians on duty, Roger continued to go the extra mile for his new co-workers.
"He has seen many other people come and go, but he keeps moving forward and is extremely diligent and adaptive to the changes," Cameron added.
Roger drives his five-minute commute to work himself and pays his sister rent with his proudly earned wages.
In just three years, Roger has accomplished exactly what he set out to do. Although it is evident that Roger's impeccable qualities led him to independence, Roger stated emphatically that he would not be where he is without the help of Jill and Rise's services.
"I have no words to describe how thankful I am for Jill," Roger said. "She has pointed me in all of the right directions."
Jill and Roger continue to meet two or three times a month to make sure all is running smoothly at his job.
Outside of the workplace, Roger likes to watch World War II movies and browse through thrift stores searching for Avon collectables and vinyl records to add to his well-established collection.