Rise's Pathways for Refugees job placement program honored with state award for service excellence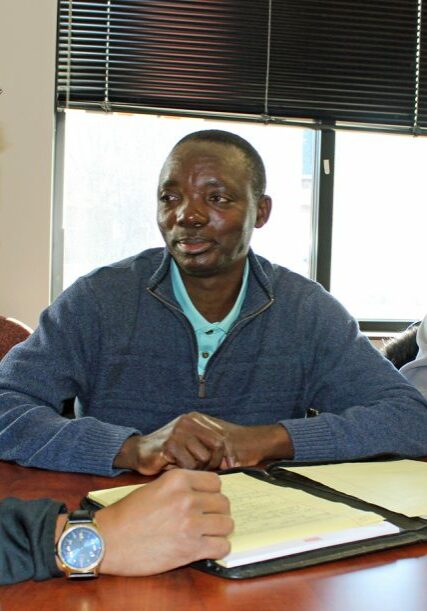 The Minnesota Department of Human Services (DHS) recently kicked off the new fiscal year with a conference and awards ceremony at the Shoreview Community Center. Employment Consultant Mohamed Daher from Rise's Pathways for Refugees program was proud to accept the state's 2018 Outstanding Refugee Program Excellence Award on behalf of his work in assisting newcomers find meaningful employment.
"It was quite an honor," said Mohamed who himself had lived in a refugee camp before immigrating to the U.S. with his family in January 2013. "I know what refugees are going through and how hard it is. I am happy to help them."
Mohamed exceeded his goal from DHS by supporting 31 people with career planning, job search, and follow-up support services for 90 days.
People he assisted were hired into full-time jobs in assembly, fulfillment, maintenance, personal care attendance, and production positions with great local companies such as Amazon, Marsden Services, Air Serv Facilities Services, and Turk, Inc. Their average hourly wage was $12.75.
The federally funded Resettlement Programs Office (RPO) within the Minnesota Department of Human Services supports the effective resettlement of refugees in Minnesota by providing the resources and stable foundation they need to rebuild their lives, achieve their highest potential, and become self-sufficient. By using their skills and energy, refugees can connect to their new communities and help Minnesota thrive.
The RPO contracts with agencies like Rise to help ensure that people with refugee status are successful as they rebuild their lives here in Minnesota.
DHS auditors thoroughly examine case files, documentation, and financial reports annually to determine if programs are operating efficiently and producing results.
"We may not have the biggest program in the state, but DHS found we had the best," said Mohamed proudly.
Many of the Rise team members who work at our South Minneapolis office are refugees themselves and clearly understand the issues which challenge their successful assimilation into the American culture.
In addition to employment services, Rise team members also help identify other community resources which can assist refugees with other critical issues such as English as a Second Language, cultural awareness, transportation, health care, and child care.
"We needed Mohamed's assistance and very much appreciate his support, advice, and help so we can achieve our dreams," Pierre Gatera, who came with his family from Burundi in Africa. He and his wife Riziki both found good jobs last year with his assistance.
Mohamed is happy to report that he recently passed his tests and personal interview for U.S. citizenship and is awaiting a date to become an American citizen.
This article appears in the December 2018 issue of the Rise Reporter.